Media Inquiries
Latest Stories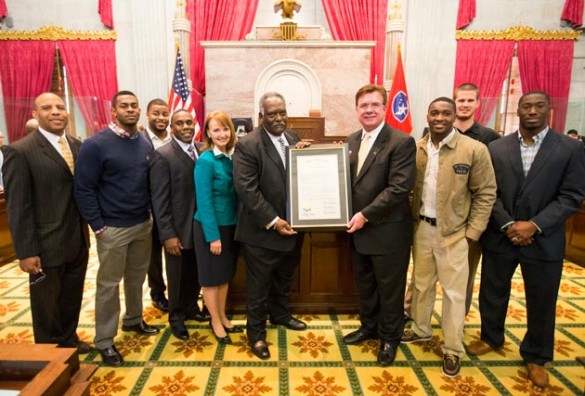 Senior members of the Vanderbilt football team were honored at the Tennessee State Capitol March 27 with the reading of a House Joint Resolution commending the team on an outstanding 2013 season—according to the resolution, "the most successful in Vanderbilt football history."
HJR 784 was sponsored by Rep. Gary Odom, D-Nashville, and signed by Gov. Bill Haslam. Read the full resolution here.
Vanderbilt's 41-24 win over Houston in the BBVA Compass Bowl gave the Commodores back-to-back nine-win seasons for the first time in program history. And for the second straight year, Vanderbilt ended the season ranked in the top 25 nationally, marking the first time that's happened in the program's 124-year history.
"Whereas, the Commodores' determination, work ethic and talent have not only made possible memorable and successful collegiate football careers, but also surely bode well for their success in every future endeavor … Be it resolved by the House of Representatives of the 108th General Assembly of the State of Tennessee, the Senate concurring, that we hereby honor the 2014 senior class of the Vanderbilt University football team on becoming the most successful graduating class in Vanderbilt football history and extend to them our best wishes in all their future endeavors," the resolution reads.
Pictured (l-r) on the Tennessee House floor are Vanderbilt Associate Director of Athletics Kevin Colon, linebacker Karl Butler, running back Wesley Tate, Head Football Coach Derek Mason, Speaker of the House Beth Harwell, Vice Chancellor for Athletics and University Affairs and Athletics Director David Williams, Rep. Gary Odom, D-Nashville, cornerback Andre Hal, defensive end Walker May and safety Kenny Ladler.