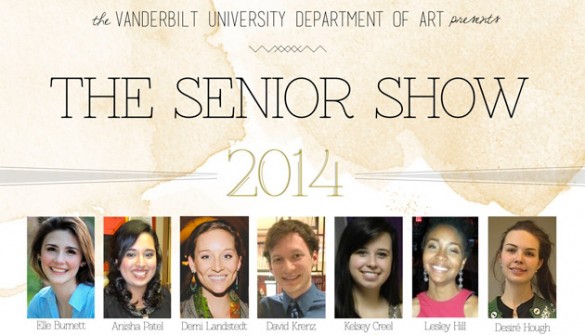 The Department of Art will open its galleries April 11 to reveal the work of seven graduating art majors, as well as work by other Vanderbilt art students completed this semester.
Senior Show 2014 will open Friday, April 11, and run through Friday, May 9, in Space 204, the second-floor gallery at the E. Bronson Ingram Studio Art Center, located at 25th and Garland avenues on the Vanderbilt campus.
Gallery hours are 9 a.m. to 4 p.m., Monday through Friday. Weekend hours are noon to 4 p.m. Saturdays and Sundays for the duration of the exhibition.
"[rquote]It's an exciting show, with some unique, weird and interesting projects,"[/rquote] said Mel Ziegler, chair of the Department of Art. "I'm pleased to see the progress that this group has made. I hope everyone has the opportunity to see the exhibition."
Participating seniors include Margaret "Elle" Burnett, Kelsey Creel, Lesley Hill, Desiré Hough, David Krenz, Demi Landstedt and Anisha Patel.
Art completed this semester by all enrolled students will be on display throughout the art building during an open house planned for April 11 from noon to 6 p.m., with a public reception from 4 to 6 p.m.
At 5 p.m. during the reception, the prestigious Margaret Stonewall Wooldridge Hamblet awards will be announced, along with the Allen P. DeLoach Award for Photography and the Mid-South Ceramics and Plaza Artist Materials awards.
All events are free and open to the public. For more information, visit vanderbilt.edu/arts or contact the Department of Art at (615) 343-7241.