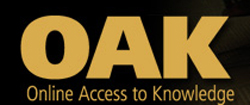 Over the past 10 years, use of the course management and learning technology system Online Access to Knowledge, or OAK, has grown dramatically at Vanderbilt. This academic year, the libraries and Vanderbilt IT have been working together to address concerns with the system's performance and to develop a long-term plan for OAK technical support that will best meet the needs of faculty and students.
In the coming weeks, more library and VUIT resources will be focused on OAK support. Tier 1 and Tier 1+ OAK support will continue to operate as normal. (A list of support for each college is available on the OAK website.) In addition, a combined team from several VUIT units, including Enrollment Management Operations Support, will provide technical support for the application. EMOS will continue its usual role of managing enrollment and course information feeds into OAK.
While the support model is being studied and enhanced, academic questions and concerns will continue to be routed through the library via Cliff Anderson, director of scholarly communications, and Jody Combs, associate dean of Jean and Alexander Heard Library. Library staff will continue to assist faculty in making library resources available via OAK, and policy questions will continue to be directed to the Provost's Office.
Suggestions on both OAK support and ideas about the overall technology systems needed to support the academic mission can be submitted to the OAK work group at OAKImprovements@vanderbilt.edu.