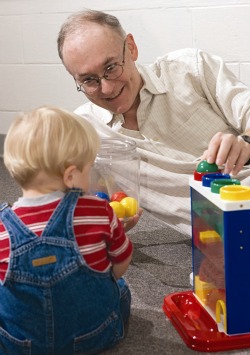 by Jane Sevier
Professors Paul Yoder and Zachary Warren of Vanderbilt University and Wendy Stone of the University of Washington's Autism Center have received at five-year, $2.1 million grant from the National Institutes of Health's National Institute for Deafness and Other Communication Disorders to study communication interventions for younger siblings of children with Autism Spectrum Disorder.
"Impairments in social communication represent a core feature of ASD," Yoder, professor of special education at Vanderbilt's Peabody College of education and human development, said. "Because ASD is highly heritable, later-born siblings of children with ASD are also at elevated risk for language and social communication disorders. In fact, a recent large-scale study revealed that 40 percent of those siblings had either ASD or language delay by the age of 3."
Yoder and his team will follow an Incremental Treatment Approach, which involves using a cost-effective treatment with infants at risk during the period in which a stable diagnosis is not yet possible because of their youth. The researchers will identify a treatment that targets skills to support social and linguistic communication development, categorize characteristics of the subgroup of siblings most likely to benefit from this treatment, and ascertain which siblings are most likely to need more intensive treatment.
The study will include 120 children ages 12 to 15 months at risk for communication disorders. Participants will be randomly assigned to receive Brooke Ingersoll's Improving Parents As Communication Teachers (ImPACT) treatment or to a control group.
Researchers hope to show that the children assigned to the ImPACT group will increase their language skills and social communication. Parents will be trained to provide the treatment, which will be evaluated at 3- and 6-month intervals. The project begins in September.