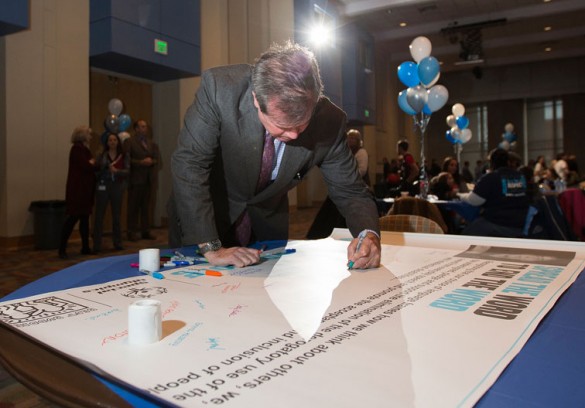 Nashville Mayor Karl Dean visited the Vanderbilt campus March 12 for Spread the Word to End the Word, an annual event presented by the award-winning Vanderbilt chapter of Best Buddies.
Dean joined attendees in signing a pledge to join the fight to end use of the "R Word," which has negative and hurtful connotations to individuals with disabilities. Dean addressed the crowd of more than 200, praising the student group for its efforts to embrace diversity at Vanderbilt and in Nashville. He emphasized that there was no place for derogatory language toward those with disabilities.
Elise McMIllan is the faculty adviser for the Vanderbilt chapter of Best Buddies. She is co-director of the Vanderbilt Kennedy Center for Excellence in Developmental Disabilities and director of community outreach for the center.
Best Buddies is an international nonprofit organization dedicated to creating opportunities for friendships, employment and leadership development for people with intellectual and developmental disabilities.