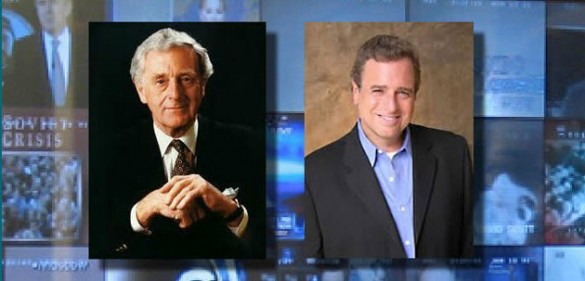 A father and son who are two of America's most respected journalists will come together at Vanderbilt University Central Library March 24 for an in-depth discussion of the state of the news business.
"Seigenthaler x 2: The Changing Face of the News" will take place at 6 p.m. in the Central Library's Community Room.
John Seigenthaler, founder of the First Amendment Center and chairman emeritus of The Tennessean, and his son, John Seigenthaler Jr., primetime cable television news anchor for Al Jazeera America, will share their informed perspectives during an event that is free and open to the public.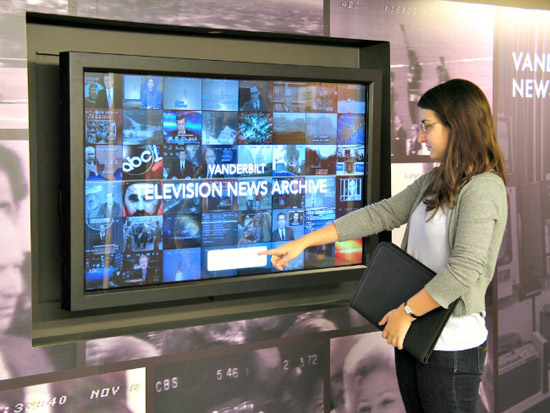 "We are honored to host the Seigenthalers for the first of a series of opportunities to consider the future of the news as we look toward the 50th anniversary of the Vanderbilt Television News Archives," said Connie Vinita Dowell, dean of libraries. "I look forward to this engaging discussion with two of Nashville's best-known journalists."
John Seigenthaler, a Nashville native, has been a strong advocate for upholding the First Amendment and the public's right to know since his early days at The Tennessean, where he began as a young reporter. He took a leave of absence from the morning newspaper in 1958 to serve as a Nieman Fellow at Harvard University. He left the paper in 1960 to work for Attorney General Robert F. Kennedy. He became the federal government's chief negotiator with then-Alabama Gov. John Patterson during the Freedom Rides, which challenged outdated segregation practices that had been ruled unconstitutional by the U.S. Supreme Court.
John Seigenthaler later returned to The Tennessean, where he became editor, publisher and CEO and served as president of the American Society of Newspaper Editors. He founded the First Amendment Center in 1991 to promote awareness, discussion and debate about First Amendment rights and values. He is also the longtime host of "A Word on Words," a weekly book review program on WNPT, Nashville Public Television. In addition, he wrote the biography James K. Polk (Times Books, 2004).
John Seigenthaler Jr. joined Al Jazeera America last August. He anchors two one-hour newscasts weeknights at 7 and 10 p.m. central time. Prior to that, he had served as CEO of Seigenthaler Public Relations in New York from 2006 to 2013.
The younger Seigenthaler also spent 11 years at NBC News, where he anchored the weekend edition of "NBC Nightly News" and appeared on "Meet the Press," "Today" and "Dateline." In addition, he hosted news programs on CNBC and MSNBC and covered stories that included the London terror attacks, the tsunami in Sri Lanka, bombings in Egypt, Hurricane Katrina and the Sept. 11 terror attacks.
John Seigenthaler Jr., who grew up in Nashville, began his journalism career at WNGE-TV (now WKRN-TV). In addition, he also was an anchor and reporter for WSMV-TV in Nashville and KOMO-TV in Seattle. Honors for his work in journalism include the Robert F. Kennedy Television News Award, two Emmys, a National Headliner Award and an Iris Award.
The talk will be video-streamed for posting later at news.vanderbilt.edu. For more information on this event, call (615) 343-4701 or email Celia Walker.