Media Inquiries
Latest Stories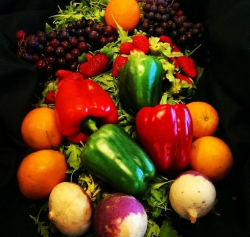 Join Bill Randles and Laura Barker of the Vanderbilt Plant Ops grounds maintenance team for "Gardening 101: Growing Your Own Vegetables" on Thursday, March 20. The talk is from noon to 1 p.m. at the Vanderbilt Recreation and Wellness Center Demonstration Kitchen.
Learn how to start a vegetable garden, including tips for soil preparation, seeding and watering. Short on backyard space? Randles and Barker will share tips for square foot and container gardens and the latest in horticulture trends including new varieties of seeds. Take home seed samples to get your garden season started.
Randles graduated from the University of Tennessee with a degree in ornamental horticulture. A 29-year veteran of the university, he is Vanderbilt's sports turf manager. Randles' interests include historic gardening, seed savers and outdoor photography.
Barker has been at Vanderbilt for almost 4 years. She earned a plant and soil science degree from the University of Illinois and has been working in the horticulture industry for 12+ years. Her interests include reading, cooking and vertical gardening.
The event is free and no registration is required. Please bring your Vanderbilt ID.
Gardening 101 is sponsored by Health Plus and the Vanderbilt Recreation and Wellness Center.
Learn about other Health Plus Count on Your Heart programs, including the March Make a Small Change Challenge.