Sedation-Free MRI Scans at Children's Hospital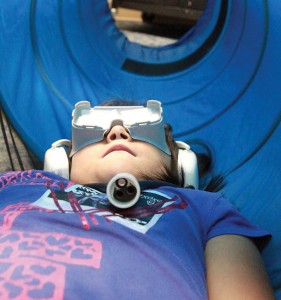 Natalie Ortiz is a typical 6-year-old—happy, active and fidgety, the kind of patient often sedated for a lengthy Magnetic Resonance Imaging (MRI) scan. But with the help of a new sedation-free MRI program at Monroe Carell Jr. Children's Hospital at Vanderbilt, Natalie was able to complete a 90-minute scan of her spine recently, lying still in the tube surrounded by a giant circular magnet that loudly clanged, tapped and thumped around her.
Currently, about 60 percent of Vanderbilt pediatric patients who have MRIs are sedated. The PAWS program (Patient Awake While Scanned) empowers pediatric patients to complete MRI scans without receiving general anesthesia.
"With the PAWS program, we can give the patient a clear expectation of what's going to happen. We show them pictures of the scanner, let them listen to MRI sounds, and try on movie goggles and headphones that they can use during the procedure to watch a movie or listen to music," says Sarah Beth Gray, a child life specialist who works in pediatric radiology.
Natalie, from Portland, Tenn., was being scanned because she has Klippel–Feil syndrome, a rare disorder characterized by the congenital fusion of any two of the seven cervical (neck) vertebrae. She chose SpongeBob from a selection of movies and, after practicing being very still, climbed in wearing movie goggles and earphones and kept her hands tightly by her side, not moving at all.
She left Children's Hospital happy that she didn't have to be sedated, and clutching a certificate of bravery plus a $5 Ben and Jerry's gift card for the Children's Hospital food court.