Mayor Karl Dean pledges to help wipe out the 'R Word'
by
Joan Brasher
Mar. 10, 2014, 1:27 PM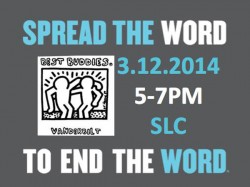 Nashville Mayor Karl Dean will visit Vanderbilt University's campus Wednesday to pledge his support to putting an end to the "R Word," which has negative and hurtful connotations to people with disabilities.
Spread the Word to End the Word is an annual event presented by the award-winning Vanderbilt chapter of Best Buddies, an international nonprofit organization dedicated to creating opportunities for friendships, employment and leadership development for people with intellectual and developmental disabilities.
The event will take place at the Student Life Center Ballroom on March 12 from 5 to 7 p.m. It is free and open to the public. Mayor Dean will address guests, who will be invited to sign a pledge that they will not use the "R Word."
Refreshments will be provided by MacDougal's Chicken and Ben and Jerry's. There will be live music by the Tin Roof Band and a performance by Momentum Dance Company.