Media Inquiries
Latest Stories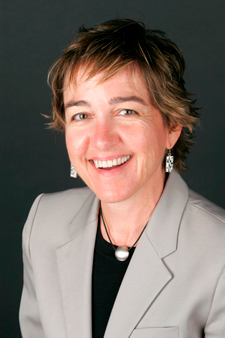 A seismic event for the Episcopal Church U.S.A. — the consecration of its first openly gay bishop — will be the starting point for Ellen T. Armour when she delivers the 40th Antoinette Brown Lecture March 20 at Vanderbilt Divinity School.
Armour, who holds the E. Rhodes and Leona B. Carpenter Chair in Feminist Theology at Vanderbilt, will speak at 7 p.m. in Benton Chapel. Her talk, "Crisis in the Anglican Communion: Christian Biodiscipline (and Beyond?)," is free and open to the public.
"The consecration of a bishop rarely makes news, but that of the Rt. Rev. Gene Robinson back in 2003 made international headlines," said Armour, who is also director of the Carpenter Program in Religion, Gender and Sexuality. "The conflict it caused, political as much as theological, took place on a global landscape shaped by the convergence of Christianity and contemporary notions of sexuality, gender and race/ethnicity. I plan to trace the effects of that convergence and what we might learn from the intense conflict."
Armour is the author of Deconstruction, Feminist Theology and the Problem of Difference: Subverting the Race/Gender Divide (University of Chicago Press, 1999). She co-edited Bodily Citations: Judith Butler and Religion (Columbia University Press, 2006). The Antoinette Brown Lecture comes out of her current book manuscript, Signs and Wonders: Theology After Modernity.
"[lquote]The Antoinette Brown Lecture Series at Vanderbilt Divinity School has made a notable contribution to the struggle for women's equality in religious bodies and society as a whole,"[/lquote] said Emilie M. Townes, dean of Vanderbilt Divinity School. Townes noted that the lecture series, which focuses on religious faith, equality and leadership from a feminist perspective, is the longest continuing lecture program of its kind in the United States.
The lecture series was established in 1974 with a gift from Sylvia Sanders Kelley of Atlanta, who majored in history and graduated magna cum laude from Vanderbilt in 1954. Sanders said that her reason for serving as benefactor arose out of her work for passage of the Equal Rights Amendment.
"In starting the lecture, I hoped that it would address not only the issues involved in women's struggles for equality in ministry, but also the struggles women were experiencing in leadership in all professions," she said. "The Antoinette Brown Lectures have brought about changes for women and for men that have far surpassed anything I could have imagined in 1974."
The lecture series commemorates the life of the first woman in the United States to be ordained to the Christian ministry. Antoinette Louisa Brown was the first woman minister of a recognized denomination in the United States when she became pastor of First Congregational Church in South Butler, N.Y., in 1853.
Brown was a writer and speaker for women's rights, temperance and the abolition of slavery. She was among the pioneers of the women's rights movement and lived long enough to cast a ballot for president.
Previous Antoinette Brown lecturers have included Rosemary Radford Ruether, Sallie McFague, Rita Nakashima Brock, Ada Maria Isasi-Diaz, Elizabeth Schüessler Fiorenza, Sharon Welch, Katie Cannon, Letty Russell, Diana Eck, Renita Weems, Kwok Pui-lan, Susan Thistlethwaite, Mary C. Churchill, Emilie M. Townes, Stephanie Paulsell, Laurel Schneider, Karen Baker-Fletcher, Amina Wadud, Judith Plaskow, Catherine Keller, Amy Hollywood and Monica Coleman.
Free parking for those attending the lecture and reception will be available in the Wesley Parking Garage, located on 21st Ave. South, in spaces 1-170. The lecture will be video-streamed for web posting later. For more information, email Sha'Tika Brown or call (615) 936-8453.