In Class and Across Campus, Vanderbilt Helps Future Generations Find Relief for an Overstressed Planet
By Joanne Lamphere Beckham, BA'62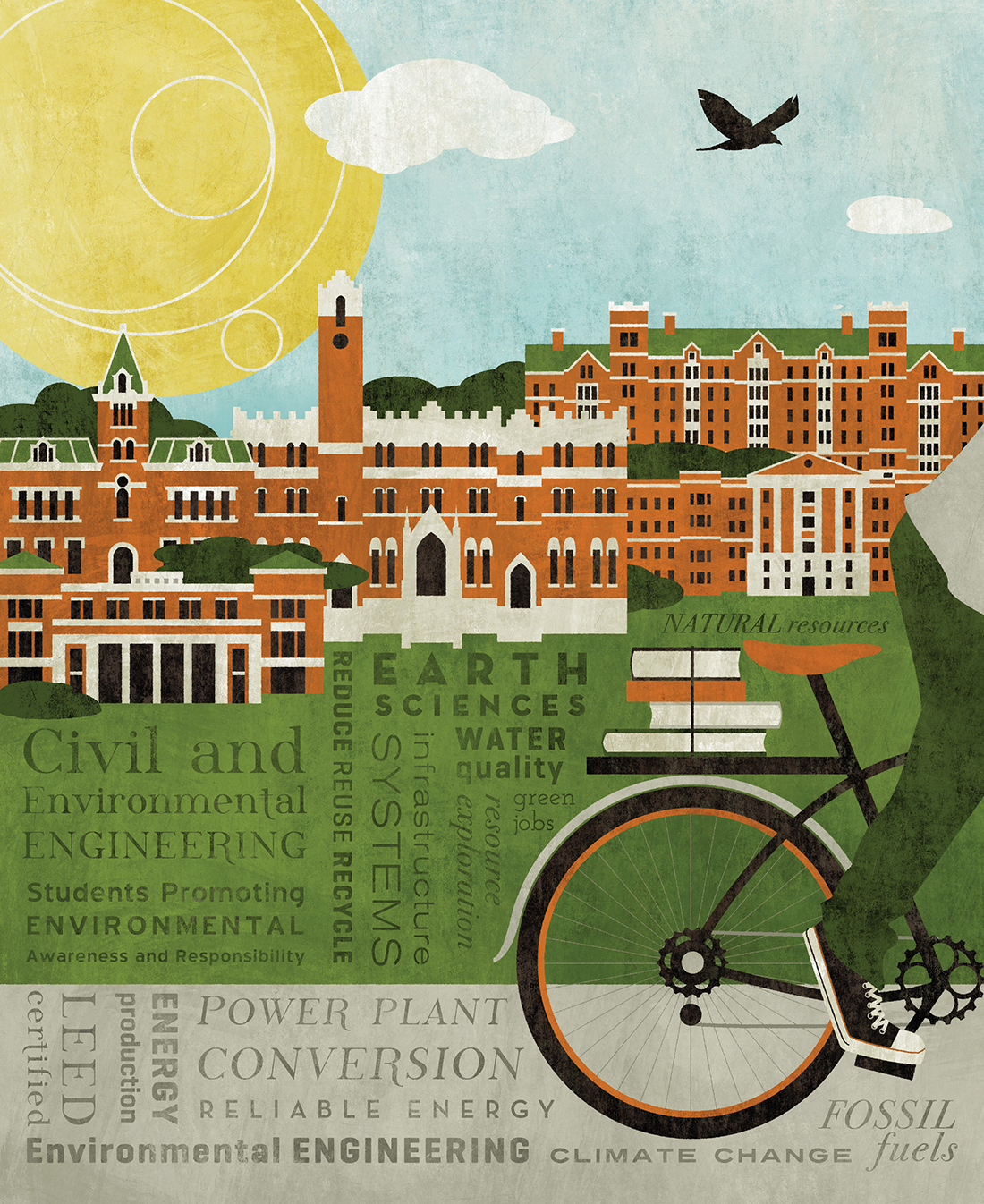 From corporate boardrooms to statehouse chambers to the halls of academe, sustainability is one of this century's biggest challenges. Although defined in many ways, sustainability is generally understood as "development that meets the needs of the present without compromising the ability of future generations to meet their own needs," according to Vanderbilt's SustainVU initiative.
"Environmental issues are arguably the most pressing problems of the 21st century," says Mark Abkowitz, professor of civil and environmental engineering and director of the Vanderbilt Center for Environment and Management. "They stem from humans using the earth's resources in unsustainable ways."
From climate change to resource depletion to loss of biodiversity, the human footprint on the planet grows ever larger and deeper. Consider the following:
• A United Nations report finds that about 150 to 200 species of plants and animals are becoming extinct every day—a rate not seen since the extinction of the dinosaurs.
• In 2010 about 42 million people were forced to flee their homes primarily because of weather-related natural disasters thought to be associated with climate change. Such environmental refugees, whose numbers more than doubled from the previous year, can destabilize populations and cause conflicts over limited resources.
• Melting glaciers, ice sheets and ice caps are producing rising sea levels, putting great expanses of arable land and some of the world's largest cities at risk.
In the face of such problems, Americans, who comprise only 4 percent of the global population, consume roughly 20 percent of the world's oil but hold only 2 percent of its known oil reserves. Business as usual, it seems, is no longer sustainable.
"Today's environmental problems require the development of a new generation of leaders with the skill and expertise to guide decision-making in the face of difficult and uncertain times," Abkowitz says. "They must be able to think about problems from a complex-systems perspective and to interact with diverse groups of people affected by those problems."
Across the university, using a potent mix of tried-and-true strategies and brand-new initiatives, Vanderbilt students, faculty and administrators are creating a more sustainable university and planet. For example:
• Philippe Fauchet, who became dean of the School of Engineering in 2012, is focusing on solving real-world problems, like the supply of reliable energy and the management of natural resources, through the school's programs and research.
• The College of Arts and Science recently established an undergraduate program in environmental and sustainability studies in order to expose students to a wide range of thinking on the environment.
• Vanderbilt Law School offers an extensive curriculum for students interested in energy, environmental and land-use law.
Some individuals and organizations embrace sustainability to improve their bottom line or to meet new environmental regulations. Some are trying to mitigate the effects of and adapt to climate change. Still others simply want to "save the earth." Whatever the motivation, "We all want to leave a better world for our grandchildren," says David Hess, professor of sociology and director of the undergraduate program in environmental and sustainability studies.
Hess came to Vanderbilt in 2011 from Rensselaer Polytechnic Institute, where he was a professor in the Department of Science and Technology Studies and director of the program in ecological economics, values and policy. A prominent scholar in science and technology studies, he is particularly interested in sustainability and environmental policy.
When Hess arrived on campus, Vanderbilt had well-established environmental studies in biology, earth and environmental sciences (EES) and engineering. The College of Arts and Science offers both a B.A. and an M.S. in earth and environmental sciences. Undergraduates also may choose to develop an independent major in environmental studies within a variety of areas, including anthropology, civil engineering and sociology. The School of Engineering offers students the option of earning a bachelor of engineering in civil engineering with a subdiscipline in environmental engineering. A doctoral program in environmental science is jointly administered by the Department of Earth and Environmental Sciences and the Department of Civil and Environmental Engineering.
"The curriculum in the humanities and social sciences, however, was less well developed" when Hess joined the Vanderbilt faculty, he explains.
To remedy the situation, Teresa Goddu, associate professor of English and American studies, and Joe Bandy, assistant director of the Center for Teaching, brought together faculty from several different disciplines to form the Cumberland Project. Their aim was to launch a continuing teaching and learning community around sustainability themes, especially in the natural and social sciences. Hess worked with Goddu, Bandy and Molly Miller, professor of earth and environmental sciences, to develop a new minor in earth and environmental studies in the College of Arts and Science.
The minor focuses on the humanities and social sciences but also includes exposure to the natural sciences. Students may choose from courses in environmental engineering, earth and environmental sciences, American studies, English, women's and gender studies, anthropology, economics, philosophy and sociology, among others.
"The minor is interdisciplinary," says Hess. "It is a valuable complement for earth and environmental sciences majors—but we are finding that other majors from across campus are also pursuing it."
Employment opportunities in earth and environmental sciences are outstanding, with starting salaries among the highest in the sciences.
The author of Good Green Jobs in a Global Economy, Hess notes that the undergraduate program in environmental and sustainability studies prepares students for careers in a variety of professions. They include environmental law and public policy, government, business and management, health and the environment, and environmental advocacy and education.
"Students can get green jobs with a bachelor's degree," he says, "but most go on to further study in master's programs or in the law. The program has grown from two graduating seniors who minored in it last year to about 16 minors this year and half a dozen students who have developed independent majors."
DOING WELL WHILE BEING GREEN
Vanderbilt's earth and environmental studies program offers students a launching pad for graduate studies in related fields, for careers in environmental studies and management, geological assessment and resource exploration such as petroleum or minerals, or in fields such as land-use planning, teaching, law and engineering. Employment opportunities in earth and environmental sciences are some of the highest among the sciences.
"It's the quintessential interdisciplinary science," says John Ayers, professor of earth and environmental sciences and chair of the department. "Students gain a vital perspective on how Earth's physical and chemical properties simultaneously sustain and threaten life and influence human interactions with the planet."
Ayers' research focuses on water security while EES colleague Jonathan Gilligan researches energy issues, Larisa DeSantis studies conservation biology, and numerous other faculty members work on climate change.
Andrea George, MS'94, PhD'07, who earned her doctorate in environmental engineering from Vanderbilt, is the first director of the university's Sustainability and Environmental Management Office (SEMO), which serves both the campus and the Medical Center.
"The environmental field has changed dramatically in recent years," says George. "Folks who hire environmental graduates are looking for systems thinkers—people who can look at a process and figure out a less wasteful, more efficient way of doing things."
In addition to acquiring technical knowledge, students also need to understand policy, economics, psychology, marketing, sociology and management in order to shape human and organizational behavior.
"It's important to educate students about the facts of different environmental problems, such as how to generate power and electricity in a more sustainable way," notes David Kosson, the Cornelius Vanderbilt Professor of Engineering and a professor of civil and environmental engineering, earth and environmental sciences, and chemical engineering. "People hear a lot of misinformation about the relative contributions of renewable versus nonrenewable energy. Students should know the possibilities and where we should be headed. Because they are going to be part of those decisions down the road, it's important that they become as informed as possible."
Kosson's special focus is the safe and effective storage of nuclear waste. In 2012, U.S. Secretary of Energy Steven Chu named Kosson to a group of nine independent technical experts charged with assessing the design of a new, state-of-the art waste treatment plant in Washington state. The plant is located on the Hanford Nuclear Reservation, one of the most polluted radioactive waste sites in the nation.
Kosson is familiar with the Hanford operations because of his role as principal investigator of the Consortium for Risk Evaluation with Stakeholder Participation (CRESP). A multi-university group funded by the U.S. Department of Energy, CRESP is charged with advancing cost-effective, low-risk methods for cleaning up radioactive waste sites at the nation's nuclear-weapons production facilities in a manner acceptable to the people living in those areas.
FACULTY LEVERAGE ENVIRONMENTAL RESEARCH

Ask Vanderbilt faculty members what are the most important environmental issues facing the world today, and many will answer climate change, followed closely by access to fresh water.
"The future health and well-being of humanity hinge in large part on smart production and use of energy, water and related resources, as these are central determinants of climate change, habitable space, and human and ecological health," says George Hornberger, the Craig E. Philip Professor of Engineering and University Distinguished Professor of Civil and Environmental Engineering and Earth and Environmental Sciences.
By participating in groups that overlap schools and disciplines, Hornberger and other faculty members are leveraging their research and education efforts to better understand and educate students about the environment.
The Vanderbilt Institute for Energy and the Environment (VIEE) is one of those interdisciplinary groups. Led by Hornberger, VIEE researchers are studying individual, institutional and societal choices for energy production and use, and the impacts of those choices on the environment and health. They are looking at climate, water quality, economics, social psychology and natural resources through the lenses of the social and behavioral sciences, physical sciences, engineering, law and policy.
The National Science Foundation recently awarded Hornberger and VIEE a $3.7 million grant to study adaptation to climate change in Sri Lanka. A small rice-producing country in Southeast Asia, Sri Lanka's climate, terrain, natural resources and sociopolitical conditions make it a complex microcosm suited to illustrate how developing countries must adapt to climate change, Hornberger says.
Water scarcity is a growing problem throughout the globe, affecting around one-third of the world's population. The problem is particularly urgent in developing countries like Sri Lanka, which rely heavily on agriculture.
"About 70 percent of fresh water is used for agriculture worldwide," Hornberger says, leaving 30 percent for all other uses such as drinking, cooking and energy production. "We are already seeing water issues in the U.S.," he notes, citing water shortages in the Southwest, as well as the conflict between Tennessee and Georgia over access to the Tennessee River.
"As risks of both flooding and water scarcity become more acute over time, there is grave concern that our infrastructure systems … will become more vulnerable and less resilient, leading to potentially catastrophic consequences."
Many other Vanderbilt faculty members are studying the environment, especially those in the civil and environmental engineering department. Distinguished Professor Douglas Adams, who was appointed chair of that department in July 2013, directs the new Laboratory for Systems Integrity and Reliability. The laboratory analyzes the complex ways in which materials and machines deteriorate and fail.
"The goal of our research is to safeguard human lives," Adams says, "while controlling the life-cycle cost and reliability of infrastructure that the nation relies on for its energy, security and transportation needs. Our undergraduates, graduate students and faculty welcome the challenge of finding answers to decaying infrastructure, nuclear waste disposal, and other big environmental problems."
An interdisciplinary team of researchers led by David Cliffel, associate professor of chemistry, and Kane Jennings, professor and chair of chemical and biomolecular engineering, has developed a way to combine the photosynthetic protein that converts light into electrochemical energy in spinach with silicon, the material used in solar cells. Their process produces substantially more electrical current than has been reported by previous "biohybrid" solar cells. The scientists have applied for a patent on their discovery.
"This combination produces current levels almost 1,000 times higher than we were able to achieve by depositing the protein on various types of metals. It also produces a modest increase in voltage," says Cliffel. "If we can continue on our current trajectory of increasing voltage and current levels, we could reach the range of mature solar-conversion technologies in three years."
SUSTAINABILITY BEGINS AT HOME
Vanderbilt's Environmental Commitment Statement pledges the university "to environmental stewardship, protecting natural resources, and enhancing quality of life while maintaining academic, medical, social and economic productivity."
Not only do Vanderbilt people study the environment and educate the next generation of leaders about the importance of sustainability, but the university also practices what it preaches. In fact, Vanderbilt was included in the 2013 Princeton Review's Guide to Green Colleges Honor Roll because of its multiple sustainability initiatives.
"Students, staff and faculty groups have started hundreds of sustainability projects through the years, with the ultimate goal of reducing Vanderbilt's impact on the environment," says Andrea George. Those initiatives range from providing locally grown food at Vanderbilt's very own farmer's market to establishing battery-recycling centers, to promoting alternative modes of transportation such as biking and taking the bus to work.
George's office, SEMO, also works closely with SPEAR (Students Promoting Environmental Awareness and Responsibility). Named the "Greenest Group" on campus in March 2013, SPEAR informs fellow students about the benefits of recycling, turning off lights, taking shorter showers, using the stairs, and eliminating "vampire" energy used by electronic devices in the standby mode.
"One of our most important functions is jointly administering, along with Vanderbilt Student Government, the Vanderbilt Green Fund," says Michael Steven Diamond, a junior majoring in EES. Diamond serves as co-president of SPEAR along with fellow junior Morgan Goldberg, a computer science major.
Begun in 2009, the Green Fund finances student-designed sustainability projects from a $75,000 grant from the university, Diamond says. "This year the fund supported occupancy sensors for lights in Carmichael Towers East and monitors that display real-time energy usage for Commons houses, in connection with the Commons Cup competition."
Last year Vanderbilt recycled 60 percent more cardboard, plastic, scrap metal, aluminum and glass than in past years. While a significant achievement, recycling, George says, is only a starting point—a sort of sustainability gateway activity—that is necessary but not sufficient.
"Recycling is something concrete, something people can put their hands on," she says. "It saves landfill space and turns a costly waste product into a valuable commodity for the university."
However, conserving energy and water and reducing carbon emissions have an even greater impact on sustainability, she says—as well as on the university's bottom line. For those reasons, Vanderbilt promotes ways to reduce energy use by faculty, staff and students. Efforts include energy-saving competitions between departments; retrofitting aging buildings and their water systems; and computerizing heating, ventilating and air-conditioning systems.
"Every dollar the university doesn't spend on the utility bill is a dollar that goes to our core missions of teaching, research and patient care," says George.
POWER PLANT CONVERSION
Vanderbilt spends approximately $37 million per year on energy consumption. The on-campus power plant burns coal and natural gas to co-generate 20 percent of the university's electricity, as well as to steam and chill water to heat and cool its buildings.
According to the National Research Council of the National Academies, Earth's average temperature has increased by more than 1.4 degrees F (0.8 degree C) during the past 100 years, largely because of greenhouse gas emissions from the burning of fossil fuels.
In 2012, Vanderbilt's overall greenhouse gas emissions decreased 19 percent from an all-time high in 2008, and 14 percent from 2005 to 2012. This was achieved despite the fact that the university experienced significant expansion in square footage, staff, students and research dollars during the same period.
In 2012, Vanderbilt's overall greenhouse gas emissions decreased 19 percent from an all-time high in 2008, despite significant expansion in square footage, staff, students and research dollars.
While a laudable accomplishment, Vanderbilt has instituted plans to decrease its emissions even further. With an eye toward more stringent regulations for coal-fired power plants and the relatively lower cost of natural gas, the Board of Trust voted last spring to convert the dual-fuel power plant to one powered entirely by natural gas. University reserves are funding the project, which is expected to cost around $27 million and take two years to complete.
"The decision to convert this facility to natural gas reflects the priority we place on conserving our environment and energy," says Chancellor Nicholas S. Zeppos. "The overall welfare and future of our community are very important, and responsible stewardship of our environmental resources is a lodestar in ensuring those efforts."
Another way Vanderbilt protects the environment and conserves energy is through its building practices. The university now has nearly a dozen buildings involving 14 projects certified by the U.S. Green Building Council's Leadership in Energy and Environmental Design (LEED). Among them are The Commons Center on The Martha Rivers Ingram Commons and the Central Library. Warren College and Moore College—the newest College Halls project now nearing completion on the northeast corner of campus at the former Kissam Quadrangle site—is awaiting LEED certification. High-performance green buildings with LEED certification are designed and constructed with water conservation, energy efficiency, indoor air quality and waste minimization in mind.
REDUCE, REUSE, RECYCLE
Although reducing our carbon footprint and living more sustainably can seem overwhelming at times, Ayers offers a simple solution. In a book he is currently writing, tentatively titled Sustainability: Adapting to a World of Shrinking Resources, Ayers proposes "The Rule of Halves":
Move to a house half the size of your current house. Cut the number of cars in your family in half, and cut the size of your cars in half. Cut the number of miles you travel by car in half. … Buy Energy Star appliances that use half the electricity. Cut the size of your lawn in half. Cut the number of televisions in your house in half, the number of computers and printers in half, the amount of clothing in half.

Be proud of your small house and your small car! Small is beautiful. If you follow the rule of halves consistently, you will cut your energy and material use, your ecological footprint and your costs in half, and make your lifestyle more sustainable.
---
Joanne Lamphere Beckham, BA'62, worked as an award-winning editor at Vanderbilt for more than 25 years. Since retiring from a full-time career in 2006, she has continued writing for various publications and has taught English as a Second Language. At Vanderbilt she earned her undergraduate degree in English, cum laude, and did graduate work at Peabody College and the Owen Graduate School of Management.
---
Continue reading related stories:
What One (Very) Young Alumna Can Do
Walking the Talk