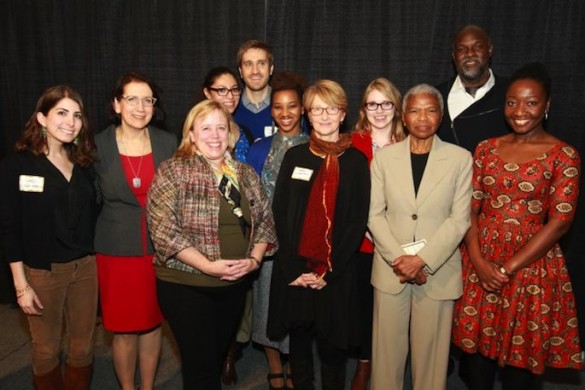 Vanderbilt's Department of Sociology celebrated its 80th anniversary Feb. 17 and 18 with visits from a civil rights lawyer and historian, and two prominent sociologists.
Mary Frances Berry is the Geraldine R. Segal Professor of American Social Thought and Professor of History at the University of Pennsylvania. Berry specializes in American legal history and African American history. Berry is the former chairwoman of the U.S. Commission on Civil Rights.
Tufuku Zuberi is the Lasry Family Professor of Race Relations, Professor and Chair of the Sociology Department, and professor of Africana Studies at the University of Pennsylvania. He specializes in issues of race, Africa and the African Diaspora. He is also one of the hosts of the long-running PBS series History Detectives and the producer of the film African Independence.
Debra Umberson is the Centennial Professor in Liberal Arts and Professor of Sociology at the University of Texas at Austin. She specializes in the study of relationships and health, with a particular focus on intimate relationships and family ties. Umberson is also a Vanderbilt alumna.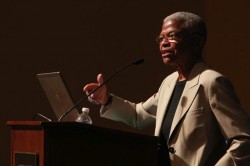 The three guests spoke at the Student Life Center Monday, Feb. 17, on themes of social change to a group of approximately 80 faculty, graduate and undergraduate students, alumni, and other friends. On Tuesday morning, Zuberi and Umberson joined sociology students and faculty for a working breakfast during which they presented their research. Then on Tuesday evening, the Department of Sociology and the Bishop Joseph Johnson Black Cultural Center co-hosted a screening of Zuberi's documentary, African Independence.
"Vanderbilt's sociology department has a long history of research related to social change, especially in the civil rights movement and issues of race and affirmative action," said department chair Katharine Donato, naming three late faculty members particularly connected to these themes. "Mayer Zald, helped found the ACLU of Tennessee in the 1970s; another, Ernest Campbell, contributed to the Coleman Report"—a landmark 1966 study showing that disadvantaged African American children did better in integrated schools—"and Pete Peterson studied the 1967 Nashville race riots."
During the last 80 years, six faculty members have also served as presidents of the Southern Sociological Society. In addition, many have received external funding from the National Science Foundation and the National Institutes of Health including recent grants for projects related to women's social movements, gendered health practices, immigrants in schools and state environmental policy.
"When I think of the department, I think of leadership," said Carolyn Dever, Dean of the College of Arts and Science, during her remarks Monday night. She went on to recognize Jonathan Metzl, director of the Center for Medicine, Health and Society; Karen Campbell, senior associate dean for undergraduate education; Holly McCammon, former associate dean of graduate education; Laura Carpenter, director of the Program for Career Development; Steven Tepper, associate director of the Curb Center for Art, Enterprise and Public Policy; Tyson Brown, Tony Brown, Andre Christie-Mizell, and Jay Turner, investigators at the Center for Health Disparities; Larry Isaac, Holly McCammon, Tony Brown, and Katharine Donato, editors of the American Sociological Review; David Hess, director of environmental and sustainability studies; Shaul Kelner, director of Jewish Studies; Gary Jensen, chair emeritus; Dan Cornfield, former director of the Center for Nashville Studies; and Richard Pitt, founding assistant dean of the Graduate School.
"[lquote]This is a department that has led, and it's led by walking the walk and talking the talk, by participating fully in the vibrant, interdisciplinary and disciplinary life of this university."[/lquote]
"The department's legacy is extraordinary," said Donato, "and our current faculty and students continue this precedent through a trajectory of outstanding scholarship in faculty-student collaborations related to health and medicine, social movements, culture, immigration, race, gender, and class. Vanderbilt has made all this happen, and we look forward to another 80 years of accomplishments."