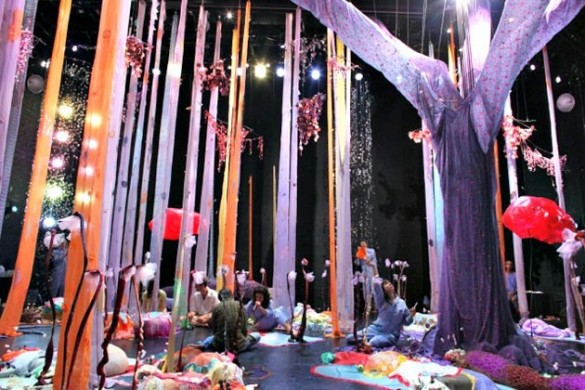 A diverse group of artists, students and other interested individuals will create a forest that is part visual art and part theater performance at Vanderbilt University March 28 and 29.
Vanderbilt University Theatre will present How to Build a Forest from noon to 8 p.m. each day on the stage of Neely Auditorium as part of its New Works Festival. The hybrid project is a collaboration between the Obie Award-winning collaborative team of playwright Lisa D'Amour, director Katie Pearl and visual artist Shawn Hall.
"[rquote]We are excited to host these emerging artists, who will bring to life the creative as well as destructive forces at work in our environment,"[/rquote] said Leah Lowe, associate professor of theater and department chair.
Beginning with an empty stage, the artists, assisted by Vanderbilt students and others, will build a forest composed of fabric, steel and repurposed objects over the course of several hours. The forest is "complete" for about a half-hour before the participants start dismantling their work.
The event is free and open to the community, and audience members can come and go throughout the performance, observing the details of the created forest from the theater seats or from within the installation itself.
Initially inspired by the loss of old growth forest due to Hurricane Katrina, How to Build a Forest was in development when the Deepwater Horizon oil spill occurred in 2010. The piece explores the length of time it takes to create an ecosystem and the rapidity with which it can be destroyed. The piece premiered in 2011 at The Kitchen, a premier artistic space in New York City for cross-disciplinary exploration.
The work features sound design by composers and sound artists Brendan Connelly and Christopher DeLaurenti and lighting design by Miranda Hardy and Peter Ksander.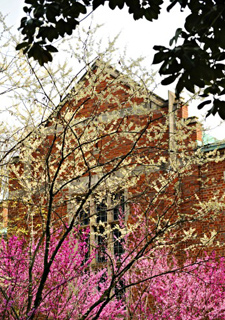 In conjunction with How to Build a Forest, Steve Baskauf, senior lecturer in biological sciences, will offer tree tours of the campus departing from Neely Auditorium at 2 p.m. March 28 and 29. In addition, self-guided tours of the campus designed by students will be available for audience members who would like to explore the local environment.
A panel discussion on art and the environment featuring Vanderbilt faculty will take place March 28 from noon to 1:30 p.m. in Alumni Hall.
From April 5 to May 3, Shawn Hall's work will be exhibited at Nashville's Red Arrow Gallery, 1311 McGavock Pike.
For more information, call (615) 322-2404 or email Leah Lowe.