Media Inquiries
Latest Stories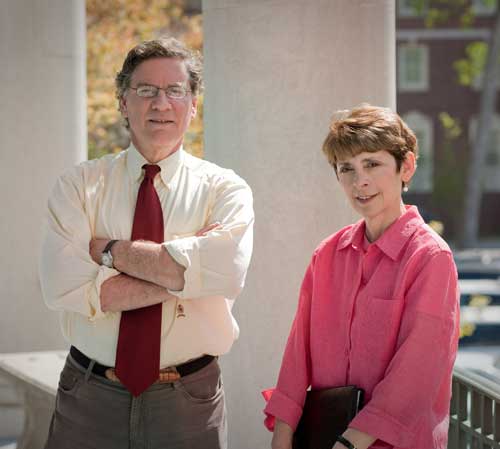 The 2014 Distinguished Contributions to Research in Education Award of the American Educational Research Association has been awarded to the research team of Doug Fuchs and Lynn Fuchs. They jointly hold the Nicholas Hobbs Chair in Special Education and Human Development, are professors of special education in Vanderbilt's Peabody College of education and human development, and are Vanderbilt Kennedy Center investigators.
This award is AERA's premier acknowledgement of outstanding achievement and success in education research.
Over three decades, the Fuchs have identified practical assessment and instructional strategies that increase the school achievement of students with diverse learning needs, with a special emphasis on reading and math achievement.
"[rquote]Lynn and Doug have altered not only our knowledge about how best to teach reading and mathematics to children with disabilities, they have also altered the practice of doing so and have accomplished this on a national scale,"[/rquote] said Camilla Benbow, Patricia and Rodes Hart Dean of Education and Human Develoment at Peabody. "Few researchers can aspire to this kind of impact."
Many of the Fuchs' publications have been honored as "most cited." They are international leaders in the study of learning disabilities.
"Doug and Lynn collaborate directly with classroom teachers to help ensure that the practices that are developed and tested are meaningful and feasible," said Elisabeth Dykens, Vanderbilt Kennedy Center director. "And they work to collaborate with principals and school system administrators in order to scale up from classrooms to schools to school systems. Their high-quality research, which has included numerous randomized control trials, serves as a model for education research at its best."
The Fuchs will be honored at the Awards Luncheon at the 2014 AERA Annual Meeting in Philadelphia on April 5.