Minutes from the University Staff Advisory Council's Feb. 11 meeting are now available online on the USAC website. (Meeting minutes are published approximately one week after the council convenes.)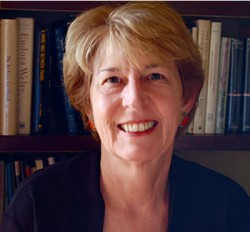 Dean of Libraries Connie Vinita Dowell was the featured guest speaker for February. She discussed how the Vanderbilt libraries fit into the larger university picture, and why libraries are necessary in the age of Google. Dowell said that research and information should come from the most reliable sources and that Vanderbilt spends about $10 million per year—almost half of the library's annual budget—on electronic resources other than Google.
She also said that a number of Vanderbilt librarians spend significant time in the classroom teaching students information literacy skills so that they will be empowered to seek information from a broad variety of sources. Following the regular meeting, the library's Celia Walker, director of special projects, and Kathy Smith, associate university archivist, led a select group of USAC representatives on a tour of the Central Library's Special Collections exhibits.
Watch Dowell's February presentation or view recordings of past USAC guest speakers.
The staff council also heard from Gloria Smith, administrative manager for Vanderbilt Plant Operations. Smith discussed Plant Ops U, an initiative designed to educate faculty and staff about Plant Ops' functions, including electricity and steam generation, athletic field and turf maintenance, and Vanderbilt's campus-wide recycling program. Plant Ops U is offered as a free six-week course and features tours of these areas.
Read the full February meeting minutes here.
For more information about the University Staff Advisory Council, upcoming meetings or to find the representatives who serve your area, visit the USAC website.
Contact: Lara Beth Lehman, (615) 322-8226
lara.beth.lehman@vanderbilt.edu