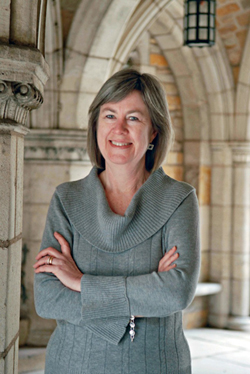 Yale University Chaplain Sharon M.K. Kugler will discuss committed interfaith work in a multi-faith world for the 2014 Mafoi Carlisle Bogitsh Memorial Lecture Feb. 27 at Vanderbilt Divinity School.
Kugler's talk, "When We Do Not Know What We Do Not Know: Religiously Literate Leadership in an Multi-Faith World," will be at 4:10 p.m. in Room 122 of the Divinity School. Video of the lecture will be available later at news.vanderbilt.edu.
The event, which is free and open to the public, will be a conversation about the look, feel, edges and promise of committed interfaith work within the broader context of ministerial vocational settings.
Kugler is the first woman, first lay person, and first Catholic to hold the position of university chaplain at Yale.
"Sharon Kugler's dynamic ministry has led the Yale community with vision and compassion," said Emilie M. Townes, dean of Vanderbilt Divinity School and the E. Rhodes and Leona B. Carpenter Professor of Womanist Ethics and Society. "She provides a comforting presence in times of death and loss as well as forging a multi-religious ministry — all with an eye for the emotional and spiritual well-being of the Yale campus. [lquote]She models the best of what campus ministry must be in higher education."[/lquote]
Kugler's early career was devoted to social service ministry. She was founding director of AIDS Interfaith Residential Services, Baltimore's first residential program for adults living in the last stages of HIV/AIDS. She has served as president of the National Association of College and University Chaplains and the Association of College and University Religious Affairs.
The Mafoi Carlisle Bogitsh Memorial Lecture was established by a gift from Professor Emeritus Burton Bogitsh and his family in honor of Mafoi Carlisle Bogitsh. She grew up as a Baptist in a small farming community in west Texas, where her mother, Una Hooper Carlisle, taught her the principle of religious tolerance.
Mafoi Carlisle studied comparative religion at Baylor University and cultivated a profound interest in various world religions and the cultures from which they arose. This interest grew when she married Burton Bogitsh, a man of Jewish heritage, and both involved themselves with the Unitarian tradition. The Mafoi Carlisle Bogitsh Memorial Lecture honors her lifelong interest in the interplay between culture and religious expression.
Among those who have delivered past Bogitsh lectures are Lenn Goodman, Richard Haglund, James Lawson Jr. and John McClure.
For more information, call 615-936-8453.