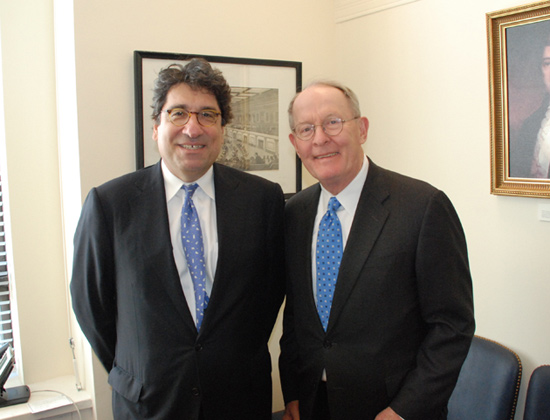 Chancellor Nicholas S. Zeppos and Vice Chancellor for Public Affairs Beth Fortune joined Assistant Vice Chancellor for Federal Relations Christina West in Washington, D.C., last week to meet with federal policymakers and to participate in the initial meeting of the U.S. Senate-appointed Task Force on Government Regulation of Higher Education, which Zeppos is co-chairing.
Zeppos met with Reps. Jim Cooper, D-Tenn., Marsha Blackburn, R-Tenn. and Luke Messer, R-Ind. (JD'94), as well as Sen. Lamar Alexander, R-Tenn., to discuss issues related to the regulatory burden faced by institutions of higher education like Vanderbilt. Zeppos emphasized that he's not interested in deregulating higher education but in smarter regulations that serve a clearly defined purpose such as protecting taxpayer dollars, ensuring academic quality, or providing relevant and timely information to students and families.
The task force Zeppos is co-chairing has been asked by Alexander, Barbara Mikulski, D-Md., Michael Bennet, D-Colo., and Richard Burr, R-N.C., to:
Provide specific recommendations to consolidate, streamline and eliminate burdensome, costly and/or confusing regulations, legislation and reporting requirements;

Review and quantify the extent of all federal reporting and regulatory requirements with which institutions must comply, including estimates of the time and costs associated with specific regulations and requirements; and
Provide recommendations for reform to ensure future regulations are promulgated in a manner that appropriately considers existing law and accurately examines the costs and benefits to taxpayers, institutions and students.
While the primary focus of the task force is on the Department of Education and, in particular, the upcoming reauthorization of the Higher Education Act, discussion during Feb. 12's meeting included regulations promulgated by the IRS and several other federal agencies. Over the coming months, the task force will work to identify specific regulations that could be eliminated or streamlined as well as to identify process reforms at the Department of Education that would lead to the promulgation of smarter regulations by that department.
"Our work is daunting, but I was encouraged by the enthusiasm and commitment of my fellow task force members," Zeppos said. "It is clear that our effort has the very strong support of a bipartisan group of U.S. senators, including our own senior senator, Lamar Alexander. They have expressed to us their willingness to work to incorporate our recommendations into the upcoming reauthorization of the Higher Education Act. [rquote]If our efforts yield smarter regulations that still protect taxpayers, students, families and institutions, it will be a tremendous accomplishment for all of higher ed."[/rquote]
Alexander and Bennet welcomed the task force, encouraging members to be bold but specific in their recommendations. Along with Zeppos, the task force is co-chaired by William E. (Brit) Kirwan, chancellor of the University System of Maryland. The American Council on Education, led by President Molly Corbett Broad, is providing operational and technical support.