Fifteen students chosen as newest class of Ingram Scholars
by
Elizabeth Latt
Feb. 19, 2014, 5:00 PM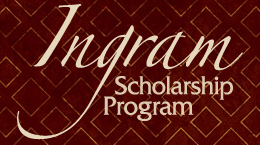 Fifteen incoming first-year students have been chosen as the newest members of the Ingram Scholarship program. The 15 are among 835 high school seniors who applied for the prestigious program.
Members of the new class are: 
Hytham Ahmad Al-Hindi of Jonesboro, Ark.;
Sarah Rose Armstrong of San Francisco, Calif.;
Christopher Chew of Winter Park, Fla.;
Alexis Elizabeth Cook of Gallatin, Tenn.;
Stephen Alexander Crockett of Jamestown, Tenn.;
Sophie Lorraine Catharina Goddyn of Portland, Ore.;
Josiah Gray Holland of Midlothian, Texas;
Lauren Eileen McCabe of Lake Bluff, Ill.;
Kinsey Taylor Morrison of Goshen, Ky.;
Faith Elizabeth Noah of Dallas, Texas;
Matthew Steven O'Keefe of Revere, Mass.;
Kojo Worai Osei of Accra, Ghana;
Urvi Abhijit Patwardham of Lexington, Ky.;
Daniel Ari Shaykevich of Henryville, Pa.;
Julia Alice Szromba of Chicago, Ill.
They will join the approximately 220 Vanderbilt students and alumni who have been awarded the Ingram Scholarship since 1994. From that first class of four undergraduates and two incoming freshmen, the program has grown to include approximately 50 Ingram Scholars attending the university at the same time.
The program was conceived in 1993 by E. Bronson Ingram, president of the Vanderbilt University Board of Trust from 1991 until his death in 1995, as a way to encourage students to combine a professional career with a commitment to community service.
Ingram Scholars are required not only to volunteer for community service but also to design and implement projects that address significant community needs. The program encourages Ingram Scholars to create projects that become self-sustaining. Each scholar participates in community service projects at least 20 hours each month.
Ingram Scholars receive a minimum of full-tuition and a stipend for a summer project. In cases of demonstrated need, additional financial aid may be provided.