Media Inquiries
Latest Stories
Metropolitan Nashville Public Schools has joined with the Vanderbilt Center for Nashville Studies and Peabody College to create a platform to provide detailed, reliable and recurring information about the commitment of major employers to the public school system. This is the latest installment in a series that tells the story of collaborative involvement between members of the Vanderbilt community and local public schools.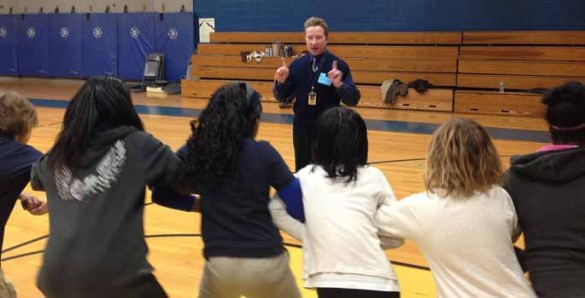 "Play" is a word that translates into any language. That's what Eakin Elementary School students discovered when international scholars from Vanderbilt introduced them to games from around the world during a series of visits in January.
Andrey Amakaev, an energetic school director from Mari El, Russia, taught a game that roughly translates "Who is stronger?" It involves children forming a chain by interlocking arms or hands, and then pulling in opposite directions like a human tug of war. The team that pulls the chain over the center dividing line wins.
"I am so happy that I had the opportunity to bring the kids joy as well as knowledge about my country and culture," Amakaev said. "I was surprised how much they know about their culture and traditions. I loved that the kids were so excited about the games."
Amakaev is one of 11 Hubert H. Humphrey Fellows at Vanderbilt Peabody College of education and human development this year. Members of the diverse group hail from China, Guinea, Kosovo, Lebanon, Mauritania, Myanmar, Pakistan, Russia and Swaziland.
As part of a Fulbright Exchange program, this cohort of mid-career leaders from developing nations are educators, school administrators, government officials and leaders in community service and nonprofit organizations who come to America for a cultural exchange.
During several visits to Eakin over the course of a week, second-, third- and fourth-graders learned to play games from China, Swaziland, Pakistan and Myanmar, to name a few. While students were unfamiliar with the games, which involved stones, shoes and string, they eagerly listened and picked up the rules as they went along, making strategies with teammates to implement speed, skill, strength, quick thinking and nimble feet to be victorious.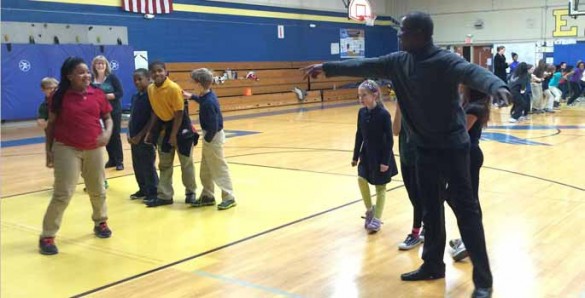 Zaoro Bimou, an educator from Conakry, Guinea, taught the children an African version of dodgeball called Fiimu, which involves two children tossing a ball or shoe at their target, who tries to avoid being tagged. The students learned much about distant lands in the process, but the Fellows also learned much about their host country.
"It is very different here …" Bimou said. "Many children in my country (about 74 percent) are still illiterate and almost all the kids are involved in farming work alongside their parents."
Fikile Mdluli, a teacher from Swaziland, observed, "We don't have gymnasiums like this where I come from, so this is quite unusual. All of our games are played outside. Of course it is not this cold in Swaziland," she said.
This is Peabody's fifth year to host a cohort of Humphrey Fellows. Each year they visit Metro Nashville schools, share their experiences, and learn from other educators.
"Our school strongly emphasizes global awareness and tolerance, and the Humphrey Fellows offer the opportunity to meet and learn from teachers from all over our world," Carolyn Green, a second grade teacher at Eakin, said. "Students learn about different countries and cultures, hear stories and play games. It is great fun. They say laughter is a universal language, and I believe it."
During their year at Peabody, the fellows undergo professional development, learn from Peabody professors, collaborate with area educators and legislators, participate in workshops and symposia, and perform community service work. For many, it is their first introduction to American culture.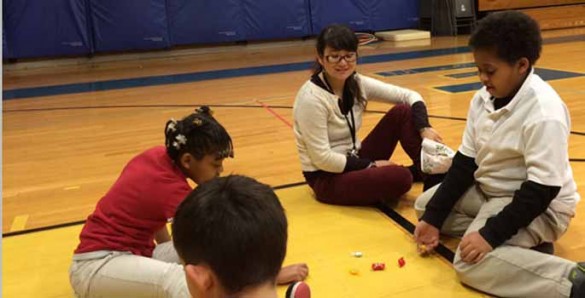 "Having the Humphrey Fellows at Vanderbilt enriches not only our university but Nashville as well," Nancy Dickson, director of the program at Peabody, said. "The Fellows become active members of the community through a variety of service activities and programs. As a result, they are able to be a part of the culture of service in Nashville as well as learn best practices in education and in organizations that will be implemented in their home country through their impact plans."
Amakaev is devising a project called "Workshop on Wheels," which will aim at forming partnership models with American and Russian educators. Bimou plans to create programming that will deepen parents' involvement in their children's education. He also wants to harness student achievement data to identify issues negatively affecting teaching and learning in the forest region of Yomou.
"I have made acquaintances with Peabody professors and participated in world-class lectures, which has been inspiring and amazing. Without the Humphrey program, such opportunities would never have been possible for a layperson like me," Bimou said.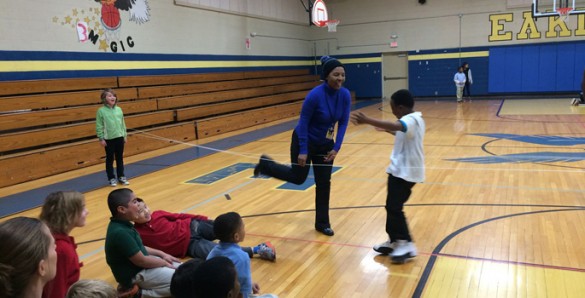 The Fellows also hosted a Passport Fair at Eakin, in which first- and second-graders visited stations hosted by the Fellows, who shared a song, story, craft or game. When they were finished, the students received stamps on their homemade passports. In a visit last fall to Eakin, the Fellows shared favorite childhood folktales with third- and fourth-graders during the school's "How We Express Ourselves" unit.
"A world without other cultures would be a sad and dreary place," Amakaev said. "I believe that teaching children about other cultures is one of the greatest gifts a child can get, and one that will last them a lifetime."
Sign up for Spring Intersession programs today
Metro Schools' Spring Intersession is just a few weeks away (March 18-21), and program registration is open now. The Metro Schools' website has a complete listing of school-based programs and many community-based programs, too. Offerings vary from content tutoring and targeted intervention to fun field trips and college visits. High school students also can sign up for free ACT prep at their schools.
In addition, many community organizations have special programs designed to support intersession, such as:
The Adventure Science Center
Cheekwood
Hands On Nashville
Watkins College of Art, Design and Film
Visit MNPS.org for full program listings and registration information. The last day to register for school-based programs is March 3.