Derek Mason's portrait added to Vanderbilt coaches mural
by
Seth Robertson
Feb. 19, 2014, 11:53 AM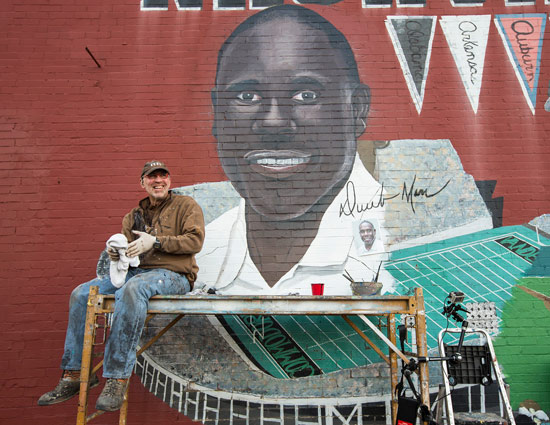 The Vanderbilt coaches mural on the corner of West End and 28th avenues has gotten a much-anticipated face-lift. Thanks to the efforts of two alumni, the likeness of new head football coach Derek Mason now appears on the Verizon store wall, alongside portraits of fellow head coaches Tim Corbin, Kevin Stallings and Melanie Balcomb.
Commodore fans had been pushing for Mason's image to replace former coach James Franklin's ever since the former Stanford Cardinal defensive coordinator was hired Jan. 18. Vanderbilt, however, does not own the mural or the property it's on, so any changes to the painting had to be paid for privately.
"I saw in an article in The Tennessean that fans were asking that the mural be changed, but no one had stepped forward," said Fant Smith, BA'92, director of business development at InnerWorkings in Murfreesboro, Tenn.
Smith forwarded the article to friend and former classmate Craig Savage, BS'92, MBA'98. "Within a minute," he said, "Craig sent me back a text that read, 'Let's make this happen.'"
The two decided to split the $2,500 fee to hire artist Michael Cooper, who painted the original mural in 1991 and has been maintaining it ever since. For Savage, it was particularly gratifying to play a role in adding Mason's face to the wall. As a student, he had been co-owner of the You Greek, Me Greek store that originally commissioned the mural.
"When we started You Greek, Me Greek at that location, the building just had a bare wall," said Savage, who now works as managing director at Credit Suisse Securities in Atlanta. "The idea for the mural just popped into our heads. We thought, Why not do something for Vanderbilt fans?
"But we never thought it would take off like it has."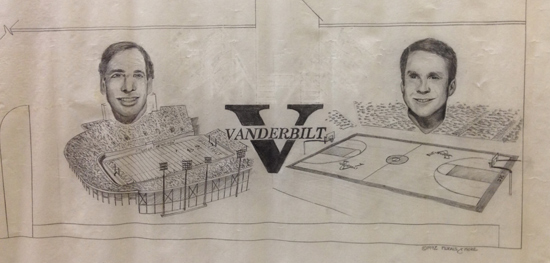 When first painted 23 years ago, the mural featured only two head coaches: football's Gerry DiNardo and Eddie Fogler of men's basketball. Since then, the wall has undergone numerous updates, including portraits for women's basketball and baseball being added, but no part of the mural has seen more change than football—a trend that both Savage and Smith would like to see reversed.
"There have been two women's basketball coaches, three men's basketball coaches and seven football coaches on the wall. We definitely need some consistency on the football side," Savage said. "I think we'll get that with Derek Mason. He understands what we need to do here at Vanderbilt, and long term, we're set up to succeed."
Smith added, "Craig and I both have this underlying belief that [Athletics Director] David Williams and Chancellor Zeppos have a great vision for athletics. We are both very excited about Derek Mason and what he's bringing to the table. We're really looking forward to next year and seeing what we can get done."
As for the future of the mural itself, Savage is hopeful it will continue to be appreciated and well cared for in the years ahead, regardless of how many coaches come and go.
"I'd like for us to call Michael Cooper just once every few years to touch it up versus adding new faces," he said. "But more than anything, I just hope the mural is preserved and that the future owners will continue to respect what it means to the university and Nashville."