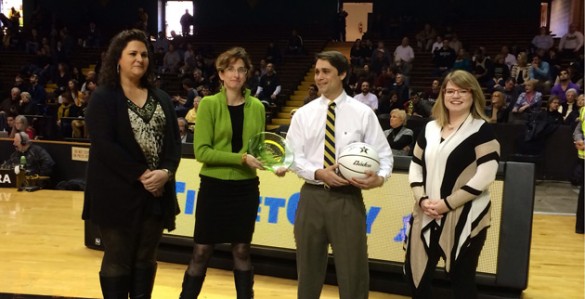 The School for Science and Math at Vanderbilt has been named winner of the 2014 Vanderbilt Basketball Sustainability Competition. The SSMV, a program of the Center for Science Outreach, celebrated its title of "greenest group on campus" at the Vanderbilt vs. Texas A&M basketball game Feb. 15 with a catered hospitality event, complimentary basketball tickets and on-court recognition during the game.
The sustainability competition, presented by Vanderbilt Athletics, Waste Management and SEMO, invited all Vanderbilt groups, teams, departments and campus organizations to compete for the title of "greenest group on campus" by completing an application detailing what sustainable actions their group routinely implements to reduce, reuse or recycle; save energy or water; use mass transit and alternative transportation options; or any other innovative sustainability programs going on within their department or organization.
The students and staff at the SSMV were recognized for their awareness of and involvement in broader sustainability initiatives at Vanderbilt, such as the Commons Cup, as well as the steps they take within their program to reduce their environmental impact. The SSMV has been integral in determining the points for the sustainability portion of the Commons Cup each month for the past four years.  Additionally, SSMV seniors are analyzing the impact that the 2013 Green Fund projects have made on campus energy savings. During the students' time on Vanderbilt's campus, they learn about many Vanderbilt sustainability projects, such as the biodiesel initiative, the VU/MWS Renewable Energy Showcase and VU's LEED certification of campus buildings. They also perform their own research on topics such as composting and car idling.
Outside of the school's curriculum, the SSMV utilizes components from broken, out-of-date and discarded electronics to build their own equipment and keeps fume hood sashes closed when not in use, and SSMV students use the same pair of nitrile gloves throughout the completion and clean-up of an experiment. Other efforts include using environmentally friendly cutlery at lunch.
Contact: Tiffany M. Renfro, (615) 322-9022
tiffany.m.renfro@vanderbilt.edu