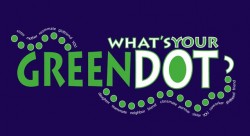 The Green Dot at Vanderbilt Committee is collaborating with the YWCA to provide service opportunities to the Vanderbilt campus community from 2 to 5 p.m. Thursday, Feb. 20. Service opportunities include organizing the YWCA's donation facility and/or lending a hand in the YWCA kitchen.  Afterward, volunteers are invited to join in a free dinner and reflection.
Green Dot Bystander Training will take place from 3 to 9 p.m. Friday, Feb. 21, in Sarratt 189. Join us for an interactive conversation around the dynamics of power-based personal violence and the role of the active bystander in reducing violence in our community. Food from Moe's Southwest Grill will be provided for those who sign up through the website.
For more information, come by the Green Dot Awareness Week table from 11 a.m. to 1:30 p.m. on the Sarratt Promenade Feb. 17-21.
Contact: Wanda Swan, (615) 322-4843
wanda.swan@vanderbilt.edu