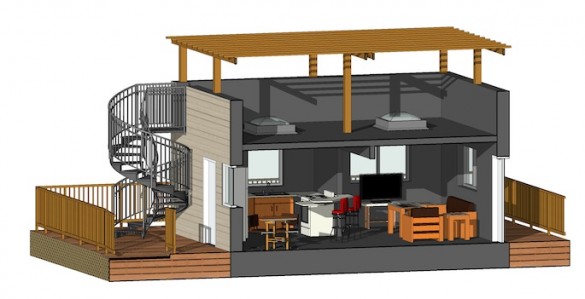 Team Music City, an interdisciplinary group from Vanderbilt University, Middle Tennessee State University and Habitat for Humanity of Greater Nashville, has been selected to compete in the Solar Decathlon 2015, a U.S. Department of Energy event that challenges students to design and build a functioning, energy-efficient, solar-powered house.
This is the first time a Vanderbilt-MTSU-Habitat-Nashville team will compete in the Solar Decathlon. The team's conceptual design – Harmony House – forges a connection between Southern living and modern green technologies.
Twenty teams from colleges and universities across the country and around the world will now begin the nearly two-year process of building their solar-powered houses. The venue for Solar Decathlon 2015 is the Orange County Great Park, located between Los Angeles and San Diego.
Team Music City is composed of undergraduate and graduate students and faculty in the School of Engineering at Vanderbilt, in the College of Basic and Applied Sciences and the College of Behavioral and Health Sciences at MTSU, and partners from Habitat-Nashville.
"The college is thrilled to be a partner in the building of Harmony House. This opportunity allows students from two outstanding universities the chance to get practical 'hands-on' experience in solving real world issues while also allowing them the ability to participate in a project that can have an impact on developing sustainable affordable housing in the future," said Bud Fischer, dean of the MTSU College of Basic and Applied Sciences.
Drawing from a variety of classes, students in construction management, interior design, electrical, mechanical and civil engineering will be involved in the planning, designing and building processes, which will lead to constructing a home that is greater than 600 square feet but less than 1,000 square feet in size. The home will be built on the Vanderbilt campus.
"I congratulate the students who have worked so hard on their submission. We are all so proud of them. This effort by Vanderbilt, Middle Tennessee State, and Habitat-Nashville shines yet another national, and even international, spotlight on Nashville, a community clearly on the move," said Philippe Fauchet, dean of the Vanderbilt School of Engineering.
Team Music City is led by faculty members Ralph Bruce, professor of electrical engineering at Vanderbilt; Sanjiv Gokhale, professor of civil engineering at Vanderbilt; Thomas Gormley, professor of engineering technology at MTSU; and by Chip Wilson, construction director at Habitat-Nashville.
Like the Olympic decathlon, the Solar Decathlon consists of 10 contests designed to gauge how well the houses perform and how livable and affordable they are. For example, in the appliances contest, teams earn points for refrigerating and freezing food, washing and drying laundry, and running the dishwasher. Teams are scored on how well they balance production and energy consumption.
The team hopes to complete the home early enough to conduct practice runs of the 10 Solar Decathlon contests, but the team has a long way to go. Construction details are preliminary, and the team will begin now to seek sponsorships, contributions and donations to fund the project.
The partners bring expertise in energy and materials research, construction and design. In its preliminary design, Harmony House features exterior walls of lightweight concrete and a rooftop solar garden that functions as a source of clean energy and as an additional living area.
"We're very excited about the Harmony House project because it's a chance for us to explore solar energy as one more component to our sustainable, affordable housing program," said Wilson. "[lquote]Lowering conventional energy consumption and costs means Habitat partner families will have more money for life's necessities.[/lquote]
"The ability to one day incorporate solar technology into our affordable housing program also positively impacts the environment because Habitat is the 18th largest residential builder in Middle Tennessee," Wilson said.
The winning team will be whoever best blends cost-effectiveness, consumer appeal and design excellence with optimal energy production and maximum efficiency.
"By building Harmony House, our students will become prepared to tackle very important societal problems— one of which is how to make better use of renewable energy," said Dean Fauchet.
Learn more about the Solar Decathlon at http://www.solardecathlon.gov/.