Media Inquiries
Latest Stories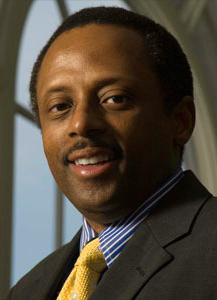 Earl Lewis, president of The Andrew W. Mellon Foundation, will deliver the 2013-14 Harry C. Howard Jr. Lecture Feb. 20 at Vanderbilt University's Central Library.
"Three Cents, Three Senses: Philanthropy, Higher Education and the Future" is the title of Lewis' talk, which begins at 4:10 p.m. in the library's Community Room.
"Earl Lewis has unique insights into the issues facing the humanities and higher education," said Carolyn Dever, dean of the College of Arts and Science. "He is an expert on universities both inside and out, from the perspective of a distinguished professor and university provost and now as the head of one of the nation's most prominent and generous philanthropic foundations. President Lewis will be an architect of higher education's future, and we are honored to welcome him to Vanderbilt."
Lewis previously served as provost and executive vice president for academic affairs at Emory University, where he was the Asa Griggs Candler Professor of History and African American Studies.
He also has held faculty appointments at the University of Michigan and the University of California at Berkeley. Lewis, a native of Tidewater, Va., received his undergraduate degree from Concordia College in Moorhead, Minn. He then earned a doctorate in history from the University of Minnesota.
Lewis is the author and co-editor of seven books as well as the 11-volume The Young Oxford History of African Americans. Among his books on American and African American history are The African American Urban Experience: Perspectives from the Colonial Period to the Present and Defending Diversity: Affirmative Action at the University of Michigan.
Lewis, who was named a fellow of the American Academy of Arts and Sciences in 2008, is the founding co-editor of the book series American Crossroads (University of California Press).
The Harry C. Howard Jr. Lecture Series was established in 1994 through the endowment of Mr. and Mrs. Thomas E. Nash Jr. and Mr. and Mrs. George Renfro, all of Asheville, N.C. The lecture honors Harry C. Howard Jr., who earned his bachelor's degree from Vanderbilt in 1951, and allows the Robert Penn Warren Center for the Humanities to bring an outstanding scholar to campus to deliver a lecture on a significant topic in the humanities.
For more information on the lecture, which is free and open to the public, email Terry Tripp at the Warren Center or call (615) 343-6060.