In Tennessee, one in six people are at risk of hunger, and one in four children do not know where their next meal will come from. Share the love this February by joining the Vanderbilt University Staff Advisory Council and Second Harvest Food Bank of Middle Tennessee in the fight against hunger.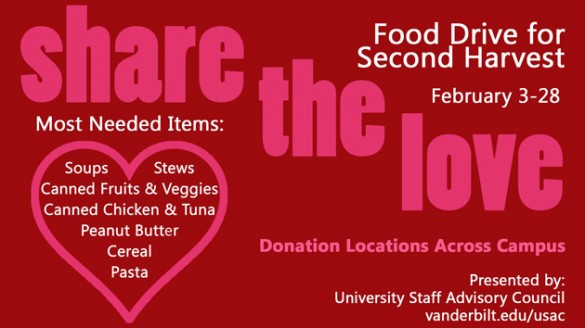 USAC is sponsoring the Share the Love Food Drive benefitting Second Harvest Feb. 3–28. There will be 20 donation locations across the Vanderbilt campus to make giving as convenient as possible.
Any non-perishable food items are appreciated. The most-needed items are soups, stews, canned fruits and vegetables, canned chicken and tuna, peanut butter, cereal and pasta. Participation from all staff, faculty and students who are able to donate is encouraged.
Get free pass to Vanderbilt Recreation and Wellness Center with donation
Any faculty or staff member who is not currently a member of the Vanderbilt Recreation and Wellness Center can bring a donation to the VRWC and receive one free pass to exercise at the facility between Feb. 3-28.
Donation locations include:
Academic Buildings
Kirkland Hall – 1st floor hallway

Wilson Hall – Suite 301
Buttrick Hall – Suite 230
Owen School – 1st floor staircase
Law School – 2nd floor staff lounge
Featheringill Hall – Towers entrance
Divinity School – Dean's Suite 113
Peabody Administration Building – 1st floor
Wyatt Center – Suite 240
Vanderbilt Kennedy Center – 3rd floor
Central Library – Front desk
Stephenson Center – Suite 6301
Student Centers
Sarratt Student Center – 1st floor gallery

Student Life Center – Lobby
The Commons Center* – 1st floor lobby (*beginning Feb. 12)
Other Buildings
Baker Building – 1st floor

2525 West End – Outside HR Express
Loews Office Tower – General Counsel's office
Recreation and Wellness Center
Health Plus office in the Rec Center – Lobby
USAC would like to recognize the critical partnership of Plant Operations staff, who are facilitating the pick up and storage of donations from each of these locations. Without their assistance, this drive, along with so many other important events on our campus, could not happen.
If you have any questions, please contact USAC Events co-chairs Lori Murphy (lori.t.murphy@vanderbilt.edu) and Kerrie Turney (kerrie.turney@vanderbilt.edu).