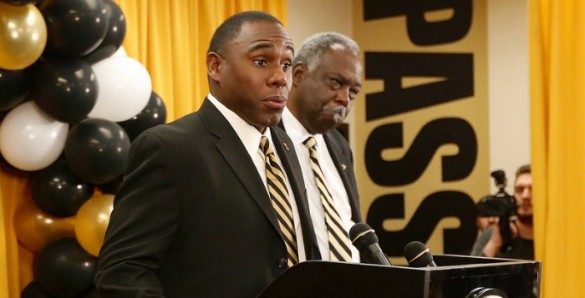 Nobody's expectations for the Vanderbilt football team under new head coach Derek Mason will exceed those of Mason himself.
"We will be champions, just so you know," Mason declared Jan. 18 during his introductory news conference with Nashville media.
His tone was more matter-of-fact informational than boastful.
Mason also gave his team the more specific goal of winning the eastern division of the Southeastern Conference, plus the more immediately measurable aim of shoring up a recruiting class that has been threatened by the timing of the exit of former coach James Franklin for Penn State.
"I think you'll like what you see on signing day," Mason assured a standing room only room of reporters at the McGugin Athletics Center on the Vanderbilt campus.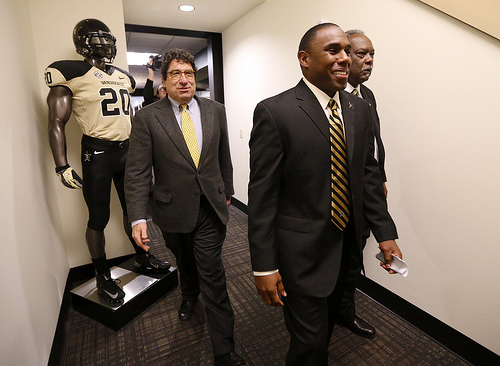 Mason, formerly associate head coach and Willie Shaw Director of Defense for Stanford, was the clear choice after a whirlwind week of interviews, said Chancellor Nicholas S. Zeppos.
"We searched broadly," he said. "We searched the galaxy. We searched the universe. We met with the physics department (about) alternative universes."
"When Derek got through meeting with us, we just looked at each other and said, 'This is our coach. This is our leader.'"
Players and fans were on hand to show their support for the new coach. David Williams II, vice chancellor and director of athletics, said about 70 applicants had expressed interest in the position, including "someone who does computer analysis."
Mason is the 28th head coach for Vanderbilt football, which has won nine games in each of the past two seasons and played in bowl games for the past three.  In 2013, Vanderbilt capped a 9-4 season with a 41-24 victory over Houston in the BBVA Compass Bowl.
"I can't wait to see what this great leader … does with these fine young men," Zeppos said. "His experience at Stanford – his values, his integrity – it's what this university was looking for and exactly what we need."
Mason said his experience at Stanford – another university with high academic standards that has nonetheless managed to thrive in football – was the perfect preparation for the Vanderbilt job.
"When this job became available at Vanderbilt University, I wanted that job," he said. "We all aspire to greatness, and that's where we're going to go."
Read more about Coach Mason, and see videos, photos and more at the Coach Central site. For more Vanderbilt Football and other athletics news, visit vucommodores.com.