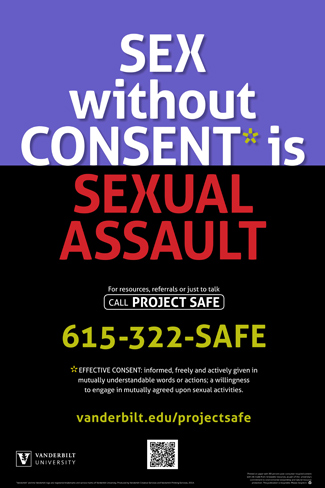 Reducing sexual assault and providing easy access to support services are the aims of a new poster and website designed to provide a single point of entry for information about sexual assault for the Vanderbilt community.
The university launched the poster and website, www.vanderbilt.edu/projectsafe, in response to feedback from students, faculty and staff who attended a December forum on sexual assault led by Provost Richard McCarty. The poster lists the Project Safe hotline, (615) 322-SAFE (7233), which is staffed 24 hours a day, seven days a week.
In an effort to provide comprehensive services and because of the complexity of governmental policies related to sexual assault, the university has multiple offices that can assist victims. However, feedback from the forum last month indicated that a streamlined approach or single entry point for information, as well as a campaign that clearly defined sexual assault, would be helpful in preventing sexual assault and providing services for victims.
The posters, which were posted in residence halls, academic buildings and other areas around campus the week of Jan. 6, send the message that any sex without consent is sexual assault and promote the hotline and website.
Additional efforts and programs will continue to be discussed and developed as the semester continues. The website includes an input form for students to submit ideas about additional steps the university can take to eliminate sexual assault.
The posters and website are components of the university's multilayered approach to preventing sexual assault and providing services to victims, which includes the Green Dot program, VU PETSA and much more. Information about all current resources is listed on the Project Safe website.
Project Safe, which is a program sponsored by the Margaret Cuninggim Women's Center in the Office of the Dean of Students, is committed to preventing all types of power-based personal violence, which includes sexual violence, intimate partner violence, stalking and identity-based targeting, helping those affected by power-based personal violence, answering questions about healthy relationships, sexuality and more. In addition to directly assisting students and providing educational programming, Project Safe staff can direct students to other resources on and off campus.