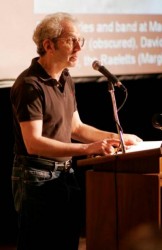 Acclaimed music writer and Vanderbilt writing professor Peter Guralnick will discuss (among other things) "How Waylon Jennings Changed My World" Jan. 25 during a public conversation at the Country Music Hall of Fame.
Guralnick, writer in residence at Vanderbilt University, will focus on new, enhanced digital editions of two of his classic books, Feel Like Going Home and Lost Highway at 1:30 p.m. Jan. 25 at the Country Music Hall of Fame and Museum, 222 Fifth Ave. S. Writer/filmmaker Robert Gordon will moderate the program.
Admission is free to Vanderbilt students with school identification. Reservations are required and can be made by emailing reservations@countrymusichalloffame.org. Otherwise, admission to the Guralnick event is free with purchase of a museum admission, which cost $24 for adults.
Vanderbilt students who attend the event may tour the exhibitions at the museum for a discounted rate of $10.
Feel Like Going Home and Lost Highway have been published in enhanced digital form including bonus chapters for each book and audio excerpts from the original interviews with such transformational figures as Muddy Waters, Merle Haggard, and Bobby "Blue" Bland. In addition both feature newly shot video segments directed by Gordon, a noted author and documentarian.
Guralnick is also the author of an acclaimed biography of Sam Cooke and a two-volume Elvis Presley biography.