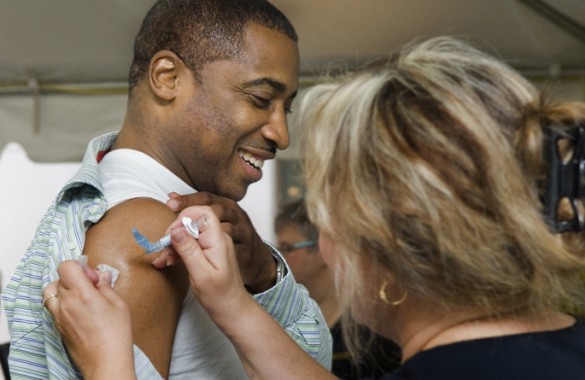 More than a dozen people from eight Tennessee counties have died from the flu virus so far this season, according to Vanderbilt University Medical Center officials.
Many more have been hospitalized with flu symptoms and complications. It's still relatively early in the flu season, and it's unclear whether the number of cases has peaked.
Now for some good news: It's not too late to get a flu vaccine, which is the most effective way to protect yourself and your family against the flu. And the flu vaccine is available for free to all Vanderbilt staff and faculty members through the Occupational Health Clinic.
Vanderbilt employees seeking a flu vaccine may walk into the Occupational Health Clinic, located in the Medical Arts Building, Suite 640, from 7:30 a.m. to 5:30 p.m. Monday–Friday. No appointment is needed.
Staff and faculty also can take advantage of an upcoming OHC Comes to You event, where Occupational Health staff will travel to work areas on campus, in Green Hills, at Vanderbilt Health One Hundred Oaks and in Williamson County to administer the flu shot at mobile vaccination centers.
The U.S. Centers for Disease Control and Prevention recommends that everyone 6 months or older—with rare exceptions—get vaccinated for the flu. The predominant flu virus in circulation this year is H1N1, which first emerged in 2009 and is covered by this year's vaccine. Although the effectiveness of the vaccine can vary from year to year, health officials say getting vaccinated is the best way to protect yourself and your loved ones from influenza. And should you come down with the virus, being vaccinated can greatly reduce the severity of your symptoms.
Flu tools available to advise on treatment
If you are feeling sick or have been exposed to the flu, the Occupational Health Flu Tool can offer guidance on whether you should come to work or seek medical care. Take your temperature with a thermometer to determine if you have a fever, then answer the five questions posed by the tool. Based on your responses, you will be given advice about work and treatment.
People should go to their primary care provider for treatment whenever possible, but several Vanderbilt walk-in clinics also are available.
Managers can help keep work groups as healthy as possible and know what to do when the flu hits with these Manager's Flu FAQs.
Always wash your hands
Aside from getting an annual flu vaccine, the most important thing a person can do to avoid the flu is practice good hand hygiene. Washing your hands with soap and water frequently and scrubbing for at least 20 seconds—a good rule of thumb is to hum the "Happy Birthday" song from beginning to end twice—can eliminate numerous viruses that are easily picked up from the environment.
For more information on hand hygiene, listen to the Occupational Health Wellcast "Hand Hygiene: Good For You and Your Patient."