Media Inquiries
Latest Stories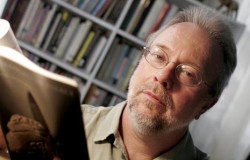 Writers David Wojahn, Claudia Emerson and Eavan Boland will each lead a public poetry workshop at Vanderbilt University this spring as part of Vanderbilt University's Saturday University program.
The poets will be visiting campus to give readings and work with students as part of the Gertrude Vanderbilt and Harold S. Vanderbilt Visiting Writers Series. During their stays, they'll also lead Saturday University events, which are open to the general public.
Admission to the three-session Saturday University program is $75. To register, complete and return the Saturday University 2014 Spring registration form.
Saturday University is held from 9:30 to 11:30 a.m. on Saturday mornings. Each session will include a presentation by the poet on the mechanics and craft of poetry and a question and answer session. Lectures are held in Cohen Memorial Hall, 1220 21st Ave. S.
The schedule:
Feb. 1: David Wojahn, author of eight collections of poetry including World Tree, which won the Lenore Marshall Poetry Prize from the Academy of American Poets.
March 29: Claudia Emerson, author of six collections of poetry including The Late Wife, winner of the Pulitzer Prize in Poetry.
April 12: Eavan Boland, author of more than 23 collections of poetry including Domestic Violence. Her awards include a Lannan Foundation Award in Poetry and an American Ireland Fund Literary Award.
Parking for Saturday University is available in the lot behind Cohen Memorial Hall adjacent to 21st Avenue South.
[campusmap]