Media Inquiries
Latest Stories
Religion in the Arts and Contemporary Culture offers gallery talk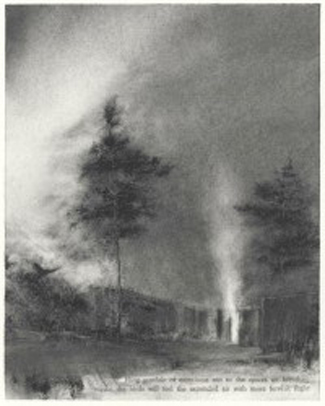 Landscape artist Ken Procter will lecture Jan. 13 on his exhibit "Duino Suite: Drawings Inspired by Rainer Maria Rilke's First Duino Elegy" at Vanderbilt Divinity School.
The Divinity School's Religion in the Arts and Contemporary Culture program is sponsoring the show, which remains on display from Jan. 7 through 17 in Room G-20.
Procter's talk will be from 10 to 11 a.m. He created the charcoal drawings in response to the European poet Rainer Maria Rilke's work. Rilke, whose poetry has become increasingly admired since his death in 1926, wrote the Duino Elegies while staying at Duino Castle near Trieste, Italy. His work continues to be referenced in popular culture on topics that include love, life and loss.
Procter earned the master of fine arts in studio art from the University of North Carolina, Chapel Hill. He is dean of arts and sciences and professor of art at Georgia College and State University. His art has appeared in dozens of juried, group and solo exhibitions. It is included in collections at the Montgomery Museum of Fine Art and the Huntsvilile Museum of Art.
"We are pleased to be able to extend this exhibit through Jan. 17," said Dave Perkins, associate director of Religion in the Arts and Contemporary Culture.
The gallery will reopen after the semester break. During the week prior to Procter's talk, gallery hours will be noon to 1 p.m. Jan. 8, 9 and 10. Visits can also be scheduled by appointment.