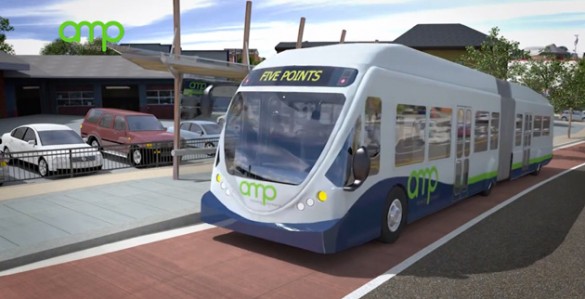 The Vanderbilt community may soon have a new transit option for traveling to and from campus. The proposed bus rapid transit (BRT) system, called the Amp, would increase the number of alternative transportation modes already available to staff, faculty and students.
If built, the Amp would connect East and West Nashville along the West End corridor and address looming traffic congestion in that area. Mayor Karl Dean is a strong proponent of what would be the city's first full-service BRT system with dedicated transit lanes for the high-tech buses that will function more like light rail or a subway. The Amp would stop at 16 designated stations that feature real-time travel information that tells riders exactly when the next bus will arrive.
The proposed route would stretch 7.1 miles from Saint Thomas West Hospital to downtown and to Five Points in East Nashville, spanning the length of the Vanderbilt campus along West End Avenue. There would be designated park-and-ride lots at both ends of the corridor and some along the route.
Amp vehicles would feature double sets of doors on both sides that open level with the station platforms, which would be helpful for people with disabilities or those using wheelchairs. The service would run every 10 minutes during rush hours and every 15 minutes during off-peak times. The Amp would also operate later at night and on weekends than current buses.
Check out this short video animation of the Amp and the responses to a list of frequently asked questions for more information.
By 2016, the number of cars that travel on the busiest sections of West End each day will increase by 20,000, from about 48,000 per day to 68,000 per day, according to the Metropolitan Transit Authority (MTA). With around 55,000 to 60,000 cars, MTA reports that intersections would fail – meaning vehicles would sit through multiple red lights at those intersections.
To help create a transit strategy for the Nashville region that would prepare the area for increased growth in development, population and traffic, Vanderbilt has joined the Amp Coalition, a broad-based group comprised of business and community leaders and engaged citizens who want to see mass transit options expanded in the region. The group is seeking new coalition members and supporters through their website – ampyes.org – which outlines a number of ways to get involved in the effort, including signing a petition, requesting an "Amp Yes" yard sign and signing up for email updates about the effort. The coalition hopes to generate 2,000 signatures by Dec. 31 on the petition that asks local, state and federal officials to support the initial AMP route, subsequent routes and any funding to complete the initial Amp route.
Earlier this year the Amp was accepted into the project development phase as outlined under the Federal Transit Administration's Small Starts grants program, which allows the city to pursue federal funding for a significant portion of the cost of the project. Successfully completing project development will put the Amp on track to be recommended for up to $75 million in federal funding.
The Metro Council also approved $7.5 million to cover the final design and engineering phase for the Amp. The funds were contingent upon the project being accepted into project development. The Nashville MTA project team is holding a series of community meetings in January to continue to seek public input on the plans. A second round of meetings will be held in March to discuss how the input has been incorporated into the project. Ultimately, the Amp project details will be submitted to the FTA for federal funds.
Alternative transportation options already in place at Vanderbilt include the Ride to Work program (MTA's EasyRide), a partnership between Vanderbilt and the Nashville MTA to subsidize the cost of bus fares for members of the Vanderbilt community. All full-time university and medical center employees, graduate students and medical center volunteers are eligible to ride to and from campus for free by simply swiping their Vanderbilt ID cards when boarding an MTA bus. Under a similar arrangement, members of the Vanderbilt community would be eligible to ride the proposed Amp without charge.
Vanderbilt also offers its employees discounted tickets to ride the Regional Transportation Authority express buses and the Music City Star commuter rail service and sponsors carpool and vanpool ride-matching programs. Plus, everyone on campus may take advantage of car sharing and bike rental services throughout the workday.
The Amp would serve as an efficient transportation alternative for faculty and staff who need to travel quickly to downtown or other locations for meetings, lectures and events. It also would provide safe and convenient transportation for Vanderbilt students, many of whom do not have vehicles on campus. Parents and other visitors to Vanderbilt would have more hotel and dining options when choosing to stay downtown and riding the Amp to campus. And, like other transit modes, the Amp has the potential to: 1) reduce the number of private vehicles on the roadways, improving Vanderbilt's carbon footprint; 2) free up parking spaces on campus; and 3) eliminate the need to pay to park out of one's campus zone or when off campus.
Discussions also are underway to coordinate Vanderbilt University Medical Center shuttles with the Amp's proposed schedule. Additionally, one could ride MTA's Route 21 University Connector bus – which runs from north to south and makes stops at Meharry Medical College and Tennessee State, Fisk, Vanderbilt, Belmont and Lipscomb universities – to the Vanderbilt area to catch the Amp for east-west travel.
For more information, visit http://thetransitalliance.org/amp/ or http://www.nashvillemta-amp.org/.