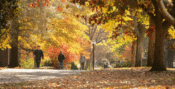 Minutes from the Vanderbilt Faculty Senate's Oct. 3 meeting are available online on the Faculty Senate website. (Meeting minutes are published approximately one month after the senate convenes.)
At the Oct. 3 meeting, senators Myrna Wooders, Kathryn Anderson, Mark Cannon and Claire Smrekar submitted a motion proposing a Faculty Senate resolution that the senate "join with other campus organizations in a continuous and committed effort to implement a strategy of personal safety and violence prevention." The senate members present discussed the resolution, with Associate Provost and Dean of Students Mark Bandas providing additional information pertinent to the discussion. (The senate passed the resolution on Nov. 7. Read more about the resolution here.)
In addition, Vice Chancellor for Health Affairs and Dean of the School of Medicine Jeff Balser gave a presentation about the state of Vanderbilt University Medical Center.
Read the full October meeting minutes here.
For more information about the senate, upcoming meetings or to find the senators who serve your school, visit the Faculty Senate website.
Contact: Andrea Hewitt, (615) 343-3841
andrea.hewitt@vanderbilt.edu