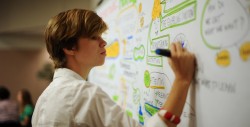 Are you interested in creating change? Solving problems? Taking a new approach to your work or research? The third annual Curb Creative Practice Boot Camp on Jan. 24 is for you.
Registration is now open for this daylong program of free, hands-on workshops. Faculty, staff and students are invited – but act now because classes fill up quickly.
Sessions include:
Brainstorming with Groups by Owen Graduate School of Management Professor David A. Owens;
Improvisation with Lauren Dowden and Rachel Miller of Second City Improv;
Sensemaking and Sensegiving with Chris Wales of NLA University College in Norway;
Networked Knowledge with creativity scholar Ryan Hargrove of the University of Kentucky;
Songwriting with hit songwriters Tom Douglas and Leslie Satcher; and
Music and Sound Design in Broadcast Media with Aaron Gant of Warner/Chappell and sound designer Jeff Lusk.
Learn more and register at the Curb Creative Campus website. The Twitter hashtag for this event is #Curbbootcamp.