Ava Sellers, former longtime director of career planning and placement at Vanderbilt, has died
by
Kara Furlong
Dec. 4, 2013, 1:56 PM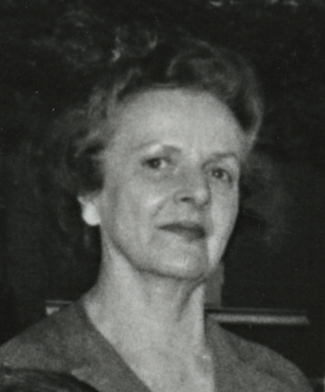 Ava Foster Sellers, who in her nearly 50 years at Vanderbilt helped transform the university's job placement office into a full-scale career planning service with a holistic approach for preparing students for the working world, died Nov. 25 in Nashville. She was 94.
Sellers was born in Lexington, Ky., and grew up across the street from the campus of the University of Kentucky, where she received a bachelor's degree in education in 1940. As an undergraduate, she worked part time as a student assistant and peer counselor in UK's newly formed student personnel office, helping fellow students with their academic schedules, testing, remedial programs, counseling and other needs. Sellers thrived in this environment, as she recalled in a 1998 interview for the Vanderbilt Oral History Project.
"In that day … when you went to college, you were just expected overnight to become an adult," she said. "I realized how much students really hungered for an adult or someone who continued to care for them on an individual basis, who would counsel and cajole them into being what they were capable of becoming.
"That sensitivity, I think, has always remained with me, and the role of that office and that I played in it were very satisfying to me," Sellers said. "That started me on my career."
Following graduation, she took a job at Vanderbilt University as secretary to newly hired Dean of Women Blanche Henry Clark (later Weaver), just as McTyeire Hall, Vanderbilt's first residence hall for women, opened. Sellers credited Weaver for her many acts of support of women on campus, including her interest in vocational career counseling for women. "Her coming was a hallmark for a change in the status of women as students at Vanderbilt," Sellers remembered.
While working in Weaver's office, Sellers pursued a master's degree in education at Peabody College. The topic of her graduate research was a study of job placement services at 50 colleges and universities nationwide. In 1945, Vanderbilt established its own counseling and placement service to provide assistance to College of Arts and Science seniors, Graduate School students and the influx of veterans to campus following World War II. In 1948, while working as an assistant to Weaver's successor, Dean of Women Nora Chaffin, Sellers was appointed a counselor in Vanderbilt's career placement office.
In its earliest days, the office primarily served to connect students with employers, particularly manufacturing companies that sought to expand following the end of the Great Depression and World War II. "They had great need for new personnel and increasingly looked to college campuses for students who had specific skills, experience or motivation, like in the scientific and technical fields or the business field. So we arranged interviews with the employers and talked with students about how to get jobs. We were not focused on career planning in the overall sense prior to the senior year," said Sellers, whose office also handled on-campus student employment and certain financial and work-study programs.
The office functioned this way for several decades. In 1952, the counseling center was separated from placement services, and in 1964, the office took over job placement responsibilities for School of Engineering students. Then in the mid-1970s, aided by a Ford Foundation grant, the office added a career counselor to expand career planning services to students beginning their freshman year.
"When we started the Career Planning and Placement Service to begin with freshmen, we were much more concerned that early on in their academic lives they become aware of the process of how one goes about career planning," Sellers said. "It seemed to me students then, and possibly now, think in terms of how you learn a particular subject to pass the grade in it, but they never think in terms of how you learn about yourself or how you take action to intervene and make progress in your own interests and life and your life in the community. They never seem to translate this process of how you learn to learning about yourself.
"In part, that's what we tried to introduce to them—to begin to think about how to assess themselves, how to explore things in the world of work through career conferences, networking, summer jobs and internships, and how to develop an effective process for getting oneself together for the working world," she said.
Sellers cultivated relationships with employers locally and around the country, many of them Vanderbilt alumni, with the mission of increasing career opportunities for students. "We had a full complement of employers who held interviews on the campus, beginning in mid-October and lasting usually until spring break time," she said. "I particularly reveled in the interaction with the world of work—industry, government, community service, graduate and professional schools. I had wonderful opportunities to visit employer sites all over the United States, maybe with 70 or more different organizations."
Sellers received the Rob Roy Purdy Award for dedication and services to Vanderbilt students, as well as the Distinguished Service Award from the Southern Association of Colleges and Employers. In 1990, the Tennessee Association of Colleges and Employers established the Lumsden-Sellers Award to recognize outstanding members of the Tennessee College Placement Association, of which Sellers served as president. The award is named in honor of Sellers and Howard Lumsden, a longtime director of career planning and placement at the University of Tennessee.
Sellers retired from Vanderbilt in July 1988 and was named director, emerita, of the Career Planning and Placement Service.
"Ava was a wonderful, sweet person," recalled Francille Bergquist, associate dean of the College of Arts and Science, emerita. "She cared very much about the students and always wanted to do her best for them. Before she retired, there were many changes in career placement, but she worked very hard to keep up with the current trends. She was a delightful lady."
Sellers was a member of Vine Street Christian Church. Until her health declined, she was active in many organizations, including the Nashville Chapter of the UN, the Osher Lifelong Learning Institute at Vanderbilt, the Vanderbilt Woman's Club Book Group and the Vanderbilt Garden Club for Campus Beautification.
She is survived by a cousin, Roger D. Bishop, and his wife, Martha, both of Nashville.

 Funeral services were held Dec. 2 in Nashville, with interment in Elizaville, Ky.
Memorial gifts in honor of Sellers may be made to the Ada Bell Stapleton/Blanche Henry Weaver Scholarship fund of the Vanderbilt Woman's Club.