Former Surgeon General Regina M. Benjamin to deliver Senior Day address during Vanderbilt University's Commencement
by
Princine Lewis
Dec. 2, 2013, 3:03 PM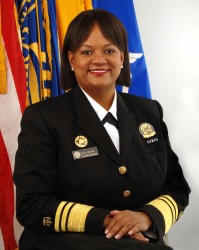 NASHVILLE, Tenn. – Regina M. Benjamin, who recently ended her four-year term as the 18th surgeon general of the United States, will receive Vanderbilt University's prestigious Nichols-Chancellor's Medal in May 2014 when she addresses graduating seniors and their families during Senior Day.
Senior Day, scheduled for Thursday, May 8, at 11 a.m., precedes Vanderbilt's annual Commencement ceremony for graduating seniors scheduled for Friday, May 9, and is a highlight of three days of activities honoring graduates, their families and friends. For more information about Senior Day and other events, visit Vanderbilt's updated Commencement website.
"As an authority on public health issues and a champion of ensuring access to quality health care for all Americans, Dr. Benjamin exemplifies the very best in humanitarian scholarship, and she is richly deserving of the Nichols-Chancellor's Medal," Chancellor Nicholas S. Zeppos said. "Her address to the Class of 2014 provides a tremendous opportunity for our graduating seniors and the entire Vanderbilt community to learn from her inspiring educational path and from her contributions to the welfare of our society."
President Obama appointed Benjamin as surgeon general in July 2009. As America's doctor, she provided the public with information on how to improve their health and the health of the nation. She also oversaw the operational command of 6,500 uniformed public health officers who serve in locations around the world to promote and protect the health of the American people. Additionally, Benjamin served as chair of the National Prevention Council ─ 17 cabinet-level federal agencies that developed the road map for the nation's health – the National Prevention Strategy.
From her early days as the founder of a rural health clinic in Alabama – which she kept in operation despite damage and destruction inflicted by hurricanes Georges and Katrina and a devastating fire – to her leadership role in the worldwide advancement of preventive health care, she has forged a career that has been recognized by a broad spectrum of organizations and publications.
Benjamin has a bachelor's degree in chemistry from Xavier University in New Orleans, a doctor of medicine degree from the University of Alabama at Birmingham and an MBA from Tulane University. She attended Morehouse School of Medicine and completed her family medicine residency in Macon, Ga. She is the recipient of 22 honorary degrees.
She is the former associate dean for rural health at the University of South Alabama College of Medicine in Mobile and past chair of the Federation of State Medical Boards of the United States. In 1995, Benjamin was the first physician under age 40 and the first African American woman to be elected to the American Medical Association Board of Trustees. She served as president of the AMA Education and Research Foundation and as chair of the AMA Council on Ethical and Judicial Affairs.
In 2002, she became the first African American female president of a state medical society in the United States when she assumed leadership of the Medical Association of the State of Alabama.
Benjamin is a member of the Institute of Medicine, the health arm of the National Academy of Sciences, which was chartered under President Lincoln in 1863. She is a fellow of the American Academy of Family Physicians. She was chosen as a Kellogg National Fellow and a Rockefeller Next Generation Leader. Past board memberships include the Robert Wood Johnson Foundation, the Kaiser Commission on Medicaid and the Uninsured, the Catholic Health Association and Morehouse School of Medicine.
She was named by Time magazine as one of the "Nation's 50 Future Leaders Age 40 and Under" and was featured in The New York Times article "Angel in a White Coat." She has appeared on the cover of Clarity magazine and on the cover of Reader's Digest as one of the national publication's "Everyday Heroes." People magazine featured her in its article "Always on Call," and she was named "Person of the Week" on ABC's World News Tonight with Peter Jennings and "Woman of the Year" by CBS This Morning.
Benjamin was the United States recipient of the Nelson Mandela Award for Health and Human Rights. She also has received the National Caring Award, which was inspired by Mother Teresa, and recognized with the Papal honor Pro Ecclesia et Pontifice from Pope Benedict XVI. She has been honored with a MacArthur Genius Award Fellowship and the Chairman's Award during the worldwide broadcast of the 42nd NAACP Image Awards. In May 2012, Reader's Digest ranked her No. 22 on its list of the "100 Most Trusted People in America."