As an artist in Vanderbilt University Medical Center's Interactive, Web and Design office, Robert Vantrease saw details many of us overlook. As a Vanderbilt employee for 64 years—the longest tenure of anyone at VUMC—he also witnessed a great deal of campus history.
"On my paycheck, my employee identification number is 2," says Vantrease, 86, who grew up near campus and always loved to draw. In October he officially retired.
He entered Vanderbilt as an undergraduate in 1946 and studied biology in the College of Arts and Science. In January 1948 he began working with Vanderbilt's medical illustration staff, where he spent his entire career. He was hired by Susan Wilkes, who, under Dean Canby Robinson, founded the medical illustration department in 1926.
One early assignment was a hand-lettered rendering of the Oath of Hippocrates, a gift from the medical Class of 1951 to the school. Vantrease would complete two or three lines of the meticulous, nearly 400-word document every few days. Today it hangs in the medical school's foyer, greeting students and faculty as it has for more than half a century.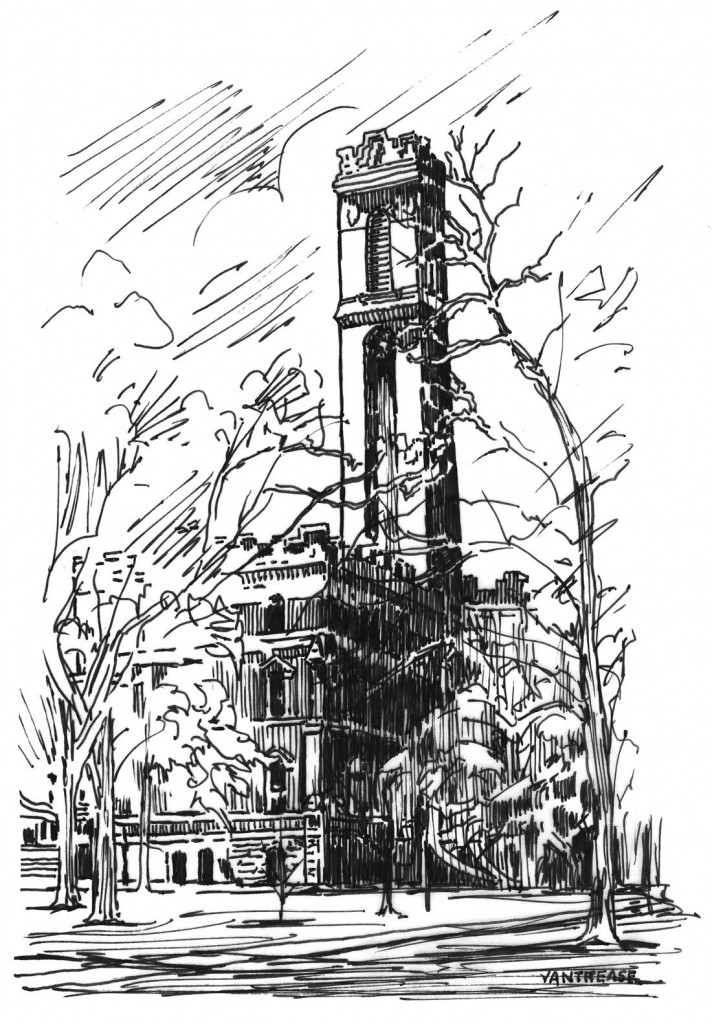 "I became interested in landscape painting around 1950," he says. "At the time I thought, 'That's what I want to do. Why work at Vanderbilt? I need to get out and paint.' But I was smart not to quit my job, because sales of art have never been the greatest way to make a living. So I channeled my interest into painting and drawing in my spare time, and I took every class and workshop I could find."
In the days before illustration software, Vantrease created charts, graphs, diagrams, schematics and anatomical illustrations by hand for use in the classroom, in research materials and publications, and for slides. Text was often created with a template and scriber from a Leroy lettering set that Vantrease continued to keep at his desk.
Through the years his specialty became architectural renderings of Medical Center and campus buildings. His work has graced the covers of Vanderbilt Magazine and other publications, has been featured in brochures and recruiting materials, and has been sold as prints and notecards.
Vantrease also did calligraphy, decorative borders and embellishments on certificates and bookplates. "A lot of doctors have my work in their offices, but they don't know it," he says.
Vantrease's long tenure included service as director of the medical illustration department for 14 years in the late 1980s and early 1990s. Since the 1990s he'd been working one or two days a week from his office in Medical Center North.
"I'm just fortunate to be able to continue to come to work—the fact that they still want me to be here," he said in a 2009 interview. "I think I do work that's a little different from everybody else, and maybe that's what they need."
— KARA FURLONG