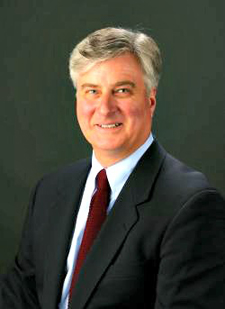 Martin Rapisarda will be the featured speaker for the Dec. 4 "Thinking Out of the (Lunch) Box: Conversations with a Philosophical Flavor with David Wood" at the Nashville Public Library.
Rapisarda, associate dean in the College of Arts and Science, served as exhibition curator of "Difficult Art and the Liberal Arts Imagination," on display at the Vanderbilt Fine Arts Gallery in Cohen Memorial Hall through Dec. 5.
Artists represented in this exhibition include Salvador Dali, Eugène Delacroix, Donna Ferrato, Jean Hélion, Lee Krasner, Robert Rauschenberg, Gerhard Richter, Rembrandt van Rijn, Auguste Rodin, Edward Steichen and Kara Walker. Vanderbilt faculty and staff selected several of the works in the show, and some are presented with commentary explaining why the work was chosen to represent "difficult" art.
The exhibition coincides with the reading by all Vanderbilt first-year students of the book College: What it Was, Is, and Should Be by Andrew Delbanco. The author defends the role of the liberal arts as a critical element of the undergraduate experience, stressing the importance of allowing students to test and discover their values and ideas among other activities and goals.
"Difficult Art and the Liberal Arts Imagination" seeks to highlight works that confront the viewer with questions about the status of art, its meaning and its purpose. One of the themes of the exhibition is that through the liberal arts education, viewers are able to experience challenging works more fully.
This conversation at the library, located at 615 Church St., is open to the public. A limited number of free lunches will be available, beginning at 11:30 a.m., in the conference center. A donation of $5 will be greatly appreciated to help defray expenses.
The program, which is moderated by Wood, the W. Alton Jones Professor of Philosophy, will be in the auditorium from noon to 1 p.m.
Thinking Out of the (Lunch) Box is co-sponsored by Friends of the Nashville Public Library and the Department of Philosophy. For more information, call 615-862-5800.