Catch This
by Dec. 2, 2013, 12:23 PM
Matthews Breaks Receiving Records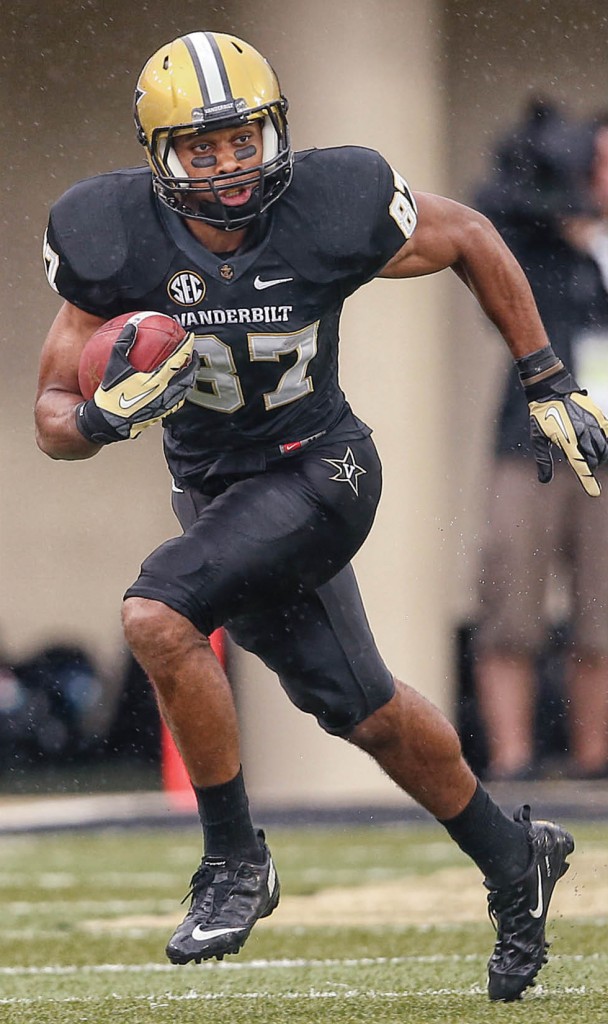 Jordan Matthews, a senior wide receiver from Madison, Ala., set two school records against the Missouri Tigers Oct. 5 with a seven-catch, 123-yard performance. Matthews finished the game with 2,991 career receiving yards—27 more than former Vanderbilt standout Gerald "Boo" Mitchell, BE'92, whose record had stood since the late '80s. Matthews also passed former Commodore All-SEC receiver Dan Stricker, BS'02, with his 22nd career touchdown catch.
Just two games later Matthews set the Southeastern Conference record for career receiving yards. His eight-catch, 92-yard performance against Texas A&M Oct. 26 helped him surpass the mark of 3,093 yards set by former Georgia standout Terrence Edwards.
At press time, Matthews tops the SEC this year with 83 catches, ranks second in the conference with 1,076 receiving yards, and is tied for eighth with five touchdown catches. He is on pace to better his personal totals from a year ago: 94 catches and a team-record 1,323 receiving yards. He also needs just four catches to erase the SEC record of 236 career receptions held by former Commodore receiver Earl Bennett, '10.
With six games of at least 100 receiving yards this season, Matthews now has 16 career performances of more than 100 receiving yards. No other Commodore has posted more than 12 games of 100 receiving yards.