Media Inquiries
Latest Stories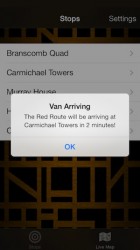 An iPhone app designed by three members of the VandyApps club (formerly Vandy Mobile) to improve the Vandy Vans experience is now available for free at the iTunes store.
Vandy Vans is Vanderbilt's overnight campus shuttle, serving multiple popular stops along three routes. The Vandy Vans website, however, was not as handy as it could be for students using their phones. So last year, student developers Seth Friedman (computer science and mathematics, '14) and McArthur Gill (mechanical engineering, '13) and graphic designer Fletcher Young (biomedical and electrical engineering, '15) set out to create an open-source app that would duplicate or improve many of the website's features for the mobile user.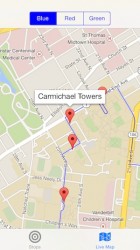 The new Vandy Vans app helps students plan their trips, see where the closest van is and even set reminders to alert users when the next van is two minutes away.
Unlike a mobile website, the app loads quickly on an iPhone. Other small but handy changes include allowing users to plan their trips by stop rather than route and GPS-enabled mapping to show where the vans are relative to the user's location.
"This app provides a fast, fluid, and sleek experience for Vanderbilt students to see when the next Vandy Van closest to them is coming," says Friedman.