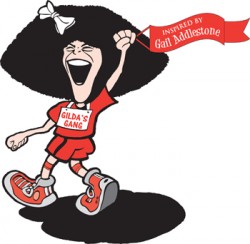 Train with Gilda's Gang Nashville to walk or run the Country Music Half Marathon on April 26, 2014. Gilda's Gang is a half-marathon training program sponsored by Vanderbilt University Medical Center and serves as a fundraiser for Gilda's Club Nashville.
Inspired by Dr. Gail Addlestone, Gilda's Gang is a great way to get fit while honoring the men, women and children in our community who are living with cancer.
The 15-week program kicks off at 9 a.m. Saturday, Jan. 11, with a health fair and open house at Gilda's Club. Interested and registered participants will have the opportunity to speak with coaches as well as local experts on training footwear and apparel and learn more about the training program, stretching for injury prevention, nutrition tips and get a workout diet.
Training with Gilda's Gang includes:
Free access to the Vanderbilt Dayani Center beginning Jan. 1;

Access to fitness specialists who will lead group runs/walks on Saturdays at 8 a.m.;
A personalized program (run, walk, or run/walk) with a weekly workout schedule;
A team discount code for the half-marathon registration fee;
A personalized online fundraising page;
An official team shirt; and
Participation in the post-race team awards celebration.
Each team member is asked to raise a minimum of $750 to support the free programs at Gilda's Club. For more information, contact Deb at (329-1124) or email deb@GildasClubNashville.org.
Come to one of the upcoming no-obligation information sessions:
Wednesday, Dec. 4, noon-1 p.m. – Vanderbilt Dayani Center

Wednesday, Dec. 4, 5-6 p.m. – Monroe Carell Jr. Children's Hospital at Vanderbilt, Room 2104
Thursday, Dec. 5, noon-1 p.m. – Light Hall, Room 419C
Wednesday, Dec. 11, 5-6 p.m. – Health Plus (atop the Kensington Garage)
Health Plus is part of Faculty and Staff Health and Wellness at Vanderbilt.