Homeschooling in America: Capturing and Assessing the Movement; Joseph Murphy; Corwin, 2012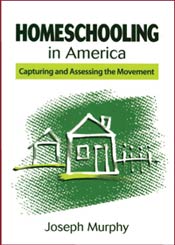 More than 2 million children in the United States are now homeschooled, up from only 15,000 40 years ago, but little research has been done on the academic and social outcomes of this student population. In a first-of-its-kind analysis, Joseph Murphy examined home schooling from its inception in the 1970s to today in order to better understand this growing social movement and what it means for education. Homeschooling in America contains the findings of his three-year study.
Murphy's research focuses on the history of the homeschooling movement in America, its exponential growth, the people who comprise the homeschool population and the impact of this educational path on the student and society.
"The purpose of the book is to offer an informed understanding of the movement," said Murphy, Frank W. Mayborn Professor at Peabody. "These movements tend to be highly ideological and everyone has a belief and ideology. The book strives to move beyond that to actually understand what is happening and why it's happening."
To read the complete review, visit http://news.vanderbilt.edu/2012/11/homeschooling/.
Strength in Numbers: Collaborative Learning in Secondary Mathematics; Ilana Horn, National Council of Teachers of Mathematics, 2012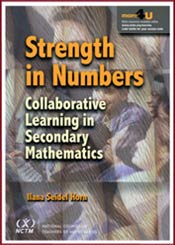 When new state standards and high-stakes testing have raised the bar for all students, how can teachers increase the rigor of mathematics instruction while keeping it accessible to a broader range of classroom learners? Collaborative learning is one answer, according to Ilana Horn, associate professor of mathematics education.
Strength in Numbers: Collaborative Learning in Secondary Mathematics describes how teachers can develop tools for effective group work in their secondary mathematics classrooms. She proposes that they move away from a notion of teaching as effective presentation of ideas toward a view of it as designing effective learning environments that support student participation and encourage students to think about mathematics rather than listen passively. By making sense of mathematical content, children learn not only how to do mathematics but also why it works.
"Too often, students fail to make critical connections between what they learned and how they live," Horn says.
To read the complete review, visit http://news.vanderbilt.edu/2013/03/strength-in-numbers.
The New Transition Handbook: Strategies High School Teachers Use That Work!; Carolyn Hughes and Erik W. Carter; Brookes Publishing, 2012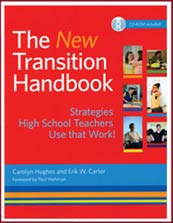 To ease the passage into adult life by students with developmental, intellectual and physical disabilities, Peabody professors Erik Carter and Carolyn Hughes have developed a transition model that combines skill development with support, including strategies they outline in The New Transition Handbook.
"Youth with disabilities have the same aspirations for adulthood as anyone else," said Carter, associate professor of special education and an investigator at the Vanderbilt Kennedy Center for Research on Human Development. "When equipped with the right skills, supports and services—they can flourish during life after high school."
Carter and Hughes describe inclusive methods that treat people with disabilities as competent and increase their independence and self-determination in tandem with social support and acceptance among the general population. Students learn to make their own choices, set goals, speak up for themselves and carry out their own plans, a shift from now-disfavored programs that isolated adolescents and young adults with disabilities.
To read the complete review, visit http://news.vanderbilt.edu/2013/03/preparestudents-disabilities-for-adult-life.