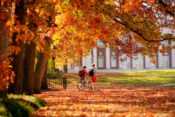 Most Vanderbilt schools are observing a break from classes Nov. 23-Dec. 1 for the Thanksgiving holiday. Residence halls close at 9 a.m. Saturday, Nov. 23, and reopen at 9 a.m. Sunday, Dec. 1. Classes resume Monday, Dec. 2.
Campus Dining locations and all Vanderbilt libraries will modify their hours over Thanksgiving Break.
Campus Dining Thanksgiving Break hours

Libraries Thanksgiving Break hours
In addition, dining locations at Vanderbilt University Hospital and the Monroe Carell Jr. Children's Hospital at Vanderbilt will observe modified hours Nov. 27-29.
Au Bon Pain
Thanksgiving Day – Open 7 a.m.–2 p.m.
Suzie's Espresso (VUH Lobby, MRBIII)
Thanksgiving Day and Friday, Nov. 29 – Closed
Ben & Jerry's
Wednesday, Nov. 27 – Closing at 6 p.m.
Thanksgiving Day – Closed
Subway
Thanksgiving Day – Closing at 7 p.m.
Suzie's Espresso (Children's Hospital)
Thanksgiving Day and Friday, Nov. 29 – Closed
Taco Bell
Thanksgiving Day – Closed