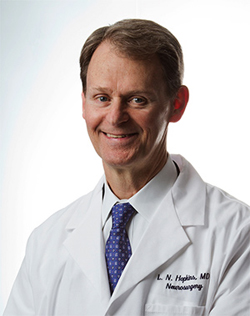 Neurosurgery innovator and pioneer L. Nelson Hopkins will present "Innovations in Vascular Care" at the second annual Vanderbilt Surgery and Engineering Symposium and Poster Session, scheduled for 4–7 p.m. Dec. 11 in Light Hall, Room 208.
The event is hosted by the Vanderbilt Initiative in Surgery and Engineering (ViSE) and the Department of Surgery Research Collaborative as a means to create synergy and facilitate the exchange of ideas between physicians, engineers and computer scientists, with a goal of improving patient care.
The poster session and reception will follow in the north atrium of Light Hall. Poster abstract submissions will be accepted until Dec. 1. Register to attend the event and submit abstracts here.
Hopkins is a Distinguished Professor of Neurosurgery and Radiology at State University of New York at Buffalo. A physician-scientist, he is a pioneer in the catheter-based treatment of neurovascular disease and stroke. He spearheaded the creation of the Toshiba Stroke and Vascular Research Center by bringing together physicists, chemists, aerospace engineers, neurosurgeons, cardiologists and radiologists to study neurovascular circulation and develop innovative technologies and approaches for the diagnosis, treatment and prevention of neurovascular diseases.
A proponent of the global approach to revascularization for the improvement of outcomes for patients with vascular disease, Hopkins has served on the faculty of numerous symposiums nationally and internationally. Each year he hosts multidisciplinary seminars alongside industry leaders focused on assessing and managing complications associated with minimally invasive catheter-based interventions.
Hopkins conceived a new way to organize the multidisciplinary treatment of vascular disease and brought experts from around the world together to design the futuristic Gates Vascular Institute building and then recruited the necessary partners to bring the Jacobs Institute and Gates Vascular Institute to life. Hopkins serves as chairman of the board and president of the Gates Vascular Institute and as CEO of the Jacobs Institute and its Center for Innovation in Medicine.
The Vanderbilt Initiative in Surgery and Engineering is an interdisciplinary, trans-institutional center whose mission is the creation, development, implementation, clinical evaluation and commercialization of methods, devices, algorithms and systems designed to facilitate interventional processes and their outcomes.
The Department of Surgery Research Collaborative was developed to provide synergy between the basic sciences and clinical research as a means of enhancing research opportunities within the Section of Surgical Sciences.
Contact: Lisa Robins, (615) 343-7274
lisa.webb-robins@vanderbilt.edu