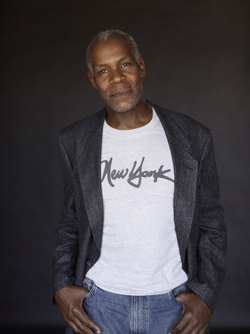 UPDATE: All tickets for the MLK keynote event featuring Danny Glover have been distributed. Those without a ticket may line up in the "no ticket" line at Langford Auditorium prior to the event. Late seating may be available, but admission to Langford Auditorium is not guaranteed.
Overflow audience can watch live video of Glover's talk in Light Hall, Room 208. No ticket is required for the overflow room.
NASHVILLE, Tenn. – An actor on screen, stage and television for more than 25 years, Danny Glover has also become known for his community activism and philanthropic work. He will headline Vanderbilt University's MLK Day celebration Jan. 20 at "An Evening with Danny Glover." The theme for Vanderbilt's commemoration is "Do Justice."
The evening will begin at 6:30 p.m. with student performances, including the winners of the university's annual MLK essay contest for middle and high school students reading their winning entries. The event is free and open to the public, but tickets are required. Tickets for Vanderbilt students will be available starting Thursday, Dec. 5, at Sarratt Box Office in Sarratt Student Center. Vanderbilt ID will be required to pick up tickets.
Tickets for faculty, staff and the general public will be available in early January.
A San Francisco native, Glover trained at the Black Actors' Workshop of the American Conservatory Theater. He made his Broadway debut in Athol Fugard's production Master Harold . . . and the Boys, which led to his first leading role in the 1984 film Places in the Heart, which was nominated for the Best Picture Oscar. Glover also starred in two more Best Picture nominees – Witness and The Color Purple. Later he would star with Mel Gibson in the hugely successful Lethal Weapon films.
His work also includes the award-winning To Sleep With Anger, which he executive produced and for which he won an Independent Spirit Award for Best Actor; Bopha!; Manderlay; Missing in America, and the film version of Fugard's play Boesman and Lena. On the small screen, Glover won an NAACP Image Award and a Cable ACE Award and earned an Emmy nomination for his performance in the title role of the HBO movie Mandela. He has also received Emmy nominations for his work in the acclaimed miniseries Lonesome Dove and the telefilm Freedom Song. As a director, he earned a Daytime Emmy nomination for Showtime's Just a Dream.
He co-founded Louverture Films dedicated to the development and production of films of historical relevance, social purpose, commercial value and artistic integrity. The company's film Trouble the Water won the Grand Jury Prize at the 2008 Sundance Film Festival.
Glover's activism and philanthropic efforts have focused on economic justice and access to health care and education programs in the United States and Africa. Internationally, Glover has served as a Goodwill Ambassador for the United Nations Development Program from 1998-2004, focusing on issues of poverty, disease, and economic development in Africa, Latin America, and the Caribbean, and currently serves as UNICEF Ambassador.