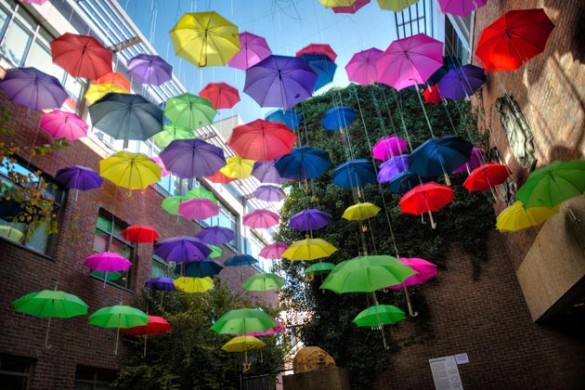 A temporary art installation on the Vanderbilt campus is designed to raise awareness and funds to combat homelessness.
The Kefi Project, a new public art organization at Vanderbilt, has installed "pairAsouls" at the Sarratt Student Center. The installation consists of more than 120 umbrellas hung in the open-air courtyard between Sarratt Gallery and Last Drop Coffee Shop, creating a multicolored, multilayered roof.
Inspired by a project exhibited at the Agitagueda Festival in Agueda, Portugal, "pairAsouls" is rooted in the idea of providing shelter to those who need it, much like an umbrella provides shelter in the rain. The aim of "pairAsouls" is to bring individuals and organizations together in an effort to combat the plight of homelessness in Nashville. Each umbrella is available for sponsorship, with all proceeds benefiting the Safe Haven Family Shelter. Each sponsor will be acknowledged for his or her contribution with a placard at the installation.
The installation will run from Nov. 11 to Dec. 6 and is open to the public during Sarratt's operating hours, 7 a.m.–12 a.m., Monday through Friday; and 8 a.m.–12 a.m., Saturday and Sunday.
Those interested in sponsoring an umbrella should visit http://www.kefiproject.org/pair-a-souls.
In addition, sponsors can attend a dinner and discussion hosted through The Cookery restaurant. The Cookery was founded to provide homeless individuals with culinary training that might enable them to find stable jobs and get off the streets.
Once the entire project has run its course, the umbrellas will be taken down and sponsors will have the option to either keep their umbrella or donate it to The Contributor so that vendors might have literal shelter from the elements when selling papers.
For more information, please visit The Kefi Project website.
Contact: Katherine Sowa, (609) 760-9810
katherine.l.sowa@vanderbilt.edu