Deadline extended! Staff Community Survey ends Nov. 22
Nov. 13, 2013, 1:00 PM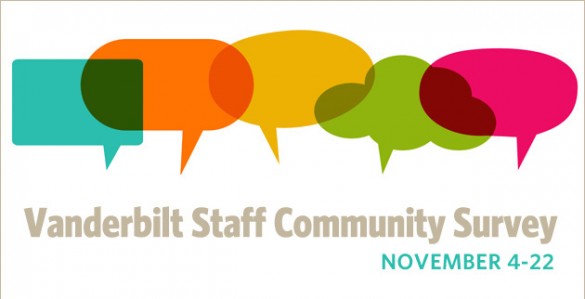 UPDATE: The deadline for completing the Staff Community Survey has been extended to 5 p.m. Friday, Nov. 22.
Please take a few minutes to participate in the Vanderbilt Staff Community Survey and give us your opinion about what it's like to work at Vanderbilt. The insights and opinions you share contribute directly to improvement efforts to support you, your department and the organization as a whole.
To reassure you about confidentiality:
All responses are confidential. Vanderbilt has contracted with Avatar Solutions to collect all survey responses and report back to Vanderbilt in a group format only.

Answers from staff in small departments will be combined with other responses to ensure confidentiality. Leaders will not receive results if fewer than five people in their work area responded.
Demographic information is only used on an organizational level to help determine if there are any categories of employees who experience unique concerns that need to be addressed. Results are not provided to Vanderbilt on any grouping with fewer than five respondents.
How to take the survey
Look for an email sent on Nov. 4 and Nov. 11 from carleym@avatarsolutions.com with the words "Vanderbilt Staff Community Survey" in the subject line. This email has a link to the survey and includes a code unique to each staff member (each code can only be used once).
Contact Carley Meyers, project manager for Avatar Solutions, at (312) 863-6106 or carleym@avatarsolutions.com for the survey link and your unique code.
The survey is available online only. If you don't have a computer, contact the Employee Service Center at human.resources@vanderbilt.edu or (615) 343-7000 for a schedule of computer labs.
The survey deadline has been extended to 5 p.m. Nov. 22, and we encourage all staff to participate. With the current challenges that Vanderbilt is facing, it's more important than ever to get your feedback so leadership will know where to focus its efforts.
To learn more, see the Staff Community Survey website. If you have questions, contact the Employee Service Center at (615) 343-7000 or human.resources@vanderbilt.edu.