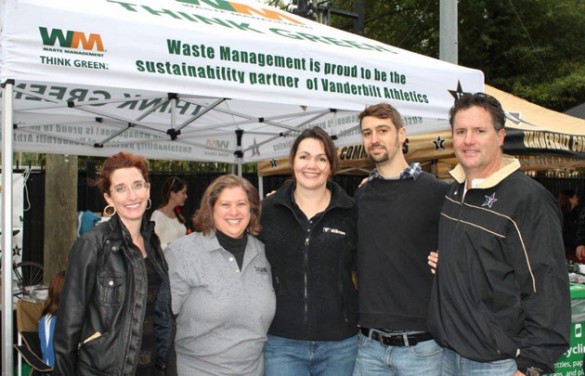 Vanderbilt Campus Dining was the grand-prize winner Oct. 19 in the Game Day Recycling Challenge before the Vanderbilt vs. Georgia football game. Campus Dining won 25 tickets to the upcoming Kentucky football game, a catered tailgate by Whole Foods and will participate in an award presentation on the field at the Kentucky game Nov. 16. Additionally, the department now has bragging rights as the "greenest group on campus."
To achieve the title, Campus Dining submitted an application to SustainVU citing its green efforts, which include:
Using only compostable disposables in all units;
Recycling 10-pound cans in all kitchens;
Recycling cardboard, plastic, aluminum and tin;
Purchasing locally grown food as much as possible;
Hosting the annual Farm To Fork event on campus, which showcases and honors local farmers;
Offering hydration stations in two Campus Dining locations, as well as free filtered water in the dining centers;
Using only compostable Coke cups for all sodas;
Offering locally produced items in convenience stores;
Offering seasonal produce stands on the Rand patio;
Scheduling periodic field trips to Delvin Farms and Hatcher Family Dairy for Campus Dining staff; and
Conducting recycling audits on a regular basis to ensure the department is recycling as much as possible.
Based on this information, Campus Dining proceeded to the next round of the competition.
Each October, Waste Management, Inc., Vanderbilt Athletics and Sustain VU partner to sponsor an on-campus competition to determine the "greenest group on campus." This year's top three finalists—the Skaar Lab at Vanderbilt University Medical Center, Campus Dining and Vanderbilt Student Volunteers for Science—were invited to attend the tailgate Oct. 19 and compete in a recycling "sort-off" to determine the grand-prize winner. The Skaar Lab and Campus Dining competed in the sort-off ending in a tie. The tie was broken by a best-of-five trivia question competition that Campus Dining won. Jenelle Spicer and Mike Ferral were the two Campus Dining representatives who won on behalf of the group.
Vanderbilt Campus Dining is an award-winning food service that operates in 20 locations across campus. Campus Dining is self-operated and financially self-supporting, and all programs are designed specifically for Vanderbilt's 4,800 on-campus undergraduate students.
Contact: SustainVU, (615) 322-9022
sustainvu@vanderbilt.edu