Media Inquiries
Latest Stories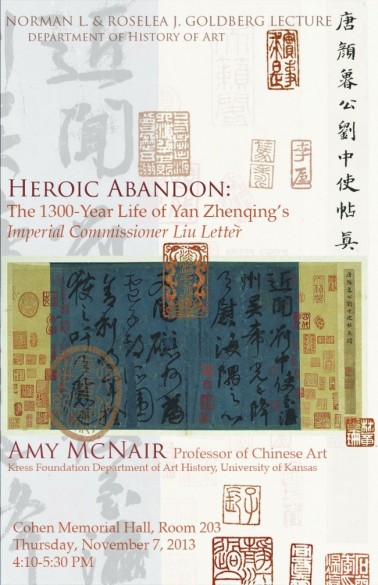 Amy McNair, professor of Chinese art at the University of Kansas, will present the Norman L. and Roselea J. Goldberg Lecture in Art History Nov. 7 at Vanderbilt University's Cohen Hall.
McNair's talk, "Heroic Abandon: The 1300-Year Life of Yan Zhenqing's Imperial Commissioner Liu Letter," will begin at 4:10 p.m. in 203 Cohen.
McNair, a preeminent scholar in Tang dynasty calligraphy, will focus on the Imperial Commissioner Liu Letter by Yan Zhenquing, an 8th-century statesman. This letter is housed in the National Palace Museum in Taipei.
"This brief letter, which comments on military actions in 775, is exemplary not only for its extraordinary appearance—highly gestural cursive-script characters on blue sutra paper—and the reputation of its author, a renowned loyalist statesman, scholar and aristocrat," wrote McNair, "but also for the rich documentation of its nearly 1,300-year life in the hands of numerous important collectors and the manifold responses by critics and artists."
McNair's publications include The Upright Brush: Yan Zhenqing's Calligraphy and Song Literati Politics (Honolulu, University of Hawaii Press, 1998) and Donors of Longmen: Faith, Politics, and Patronage in Medieval Chinese Buddhist Sculpture (Honolulu: University of Hawaii Press, 2007).
McNair earned her doctorate at the University of Chicago. She has won many national and international fellowships and honors and is the recipient of the National Endowment for the Humanities Research Fellowship.
Sponsored by the Vanderbilt Department of History of Art, the Goldberg Lecture is free and open to the public. Parking is available in Lot 95 by Cohen Hall, located at 1220 21st Ave. S.
For more information, email Anne Hill or call 615-322-2831.
Fay Renardson contributed to this story.