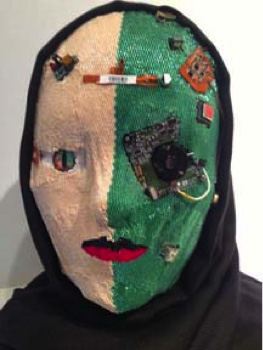 Sarratt Gallery is hosting an exhibition, It's A Scream: Art From Nightmares and Fears, that will feature Teresa Gray, a librarian at Vanderbilt's Special Collections and University Archives.
Appropriately themed for Halloween, the exhibition includes 16 artists who created pieces motivated by fears, nightmares and other scary notions, as well as El Dios des la Muertos, commonly known in the United States as The Day of the Dead.
A reception for the exhibition takes place on Saturday, Nov. 2, 4:30-7 p.m. at the Sarratt Gallery, which is open daily and located on the main floor of Sarratt Student Center on the Vanderbilt campus.
Gray's contribution, a beaded mask called, Cyborg, evolved from a rebellion against social media. Initially, Gray approached this project as a Halloween piece, but shifted her focus to technology phobia and the fear of losing one's humanity.
"I offer technology support for special collections and I use technology a lot. So I decided to incorporate pieces of technology, circuit boards and broken camera parts into the mask," she said.
Sarratt Art Studios classes are where the librarian discovered and ultimately learned the art of bead weaving, which lead to her invitation to be a part of It's A Scream.
"There's nothing more satisfying than creating and completing an art project and we have a great resource here with the Sarratt Studios," she said.
Contact: David Heustess
david.f.heustess@vanderbilt.edu